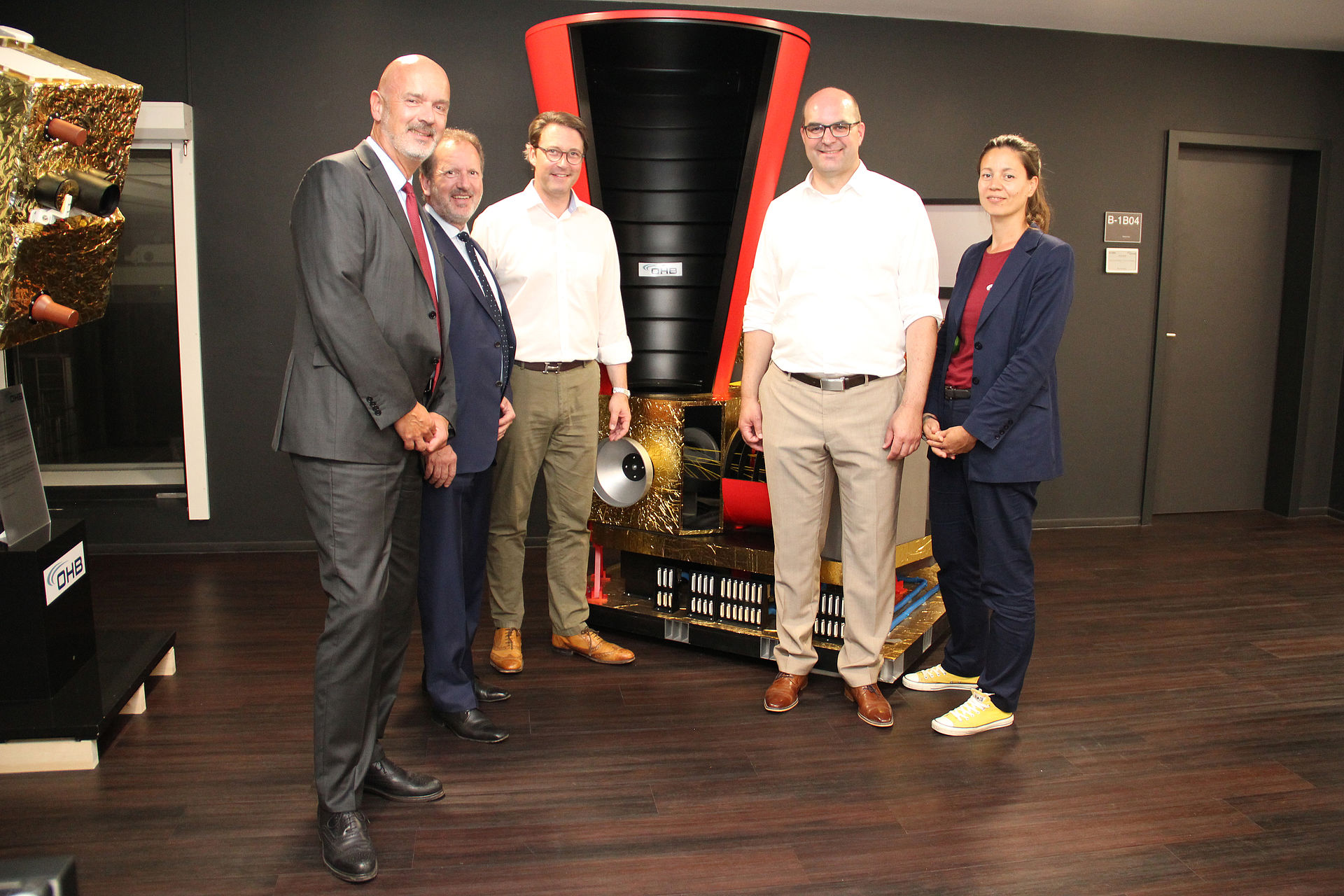 Oberpfaffenhofen, July 25, 2018. The German Federal Minister of Transport and Digital Infrastructure, Andreas Scheuer, visited the Bavarian site of OHB System AG today, which specializes in instruments and optical systems for use in space and satellite integration.
Federal Minister Andreas Scheuer said on the occasion of his visit: "With Galileo, we are creating a European system of invisible life-improvers. These include, for example, road and maritime navigation, position-based search and rescue systems as well as systems for improving agriculture. In addition, innovative technologies such as automated and networked driving are made possible by satellite navigation in the first place. With its satellites, OHB is providing the key infrastructure for the Galileo program."
"It was a great pleasure for us today, on the day of the successful launch of four more OHB-built Galileo satellites, to welcome Federal Minister Scheuer to our site in Oberpfaffenhofen. OHB delivers state-of-the-art satellites for navigation and Earth observation and thus comes within the scope of the BMVI. In Bavaria, the OHB Group employs more people than in any other German state and has outstanding abilities which we were able to demonstrate to the minister," said Dr Lutz Bertling, who as a member of the OHB SE Management Board is also responsible for digitization matters. "We discussed the contribution that space technology can make to Germany's digital infrastructure, touching in particular on matters such as satellite-based broadband communications and the space-based protection of autonomous driving and M2M (machine-to-machine)."
Minister Scheuer and his delegation were given a view into one of the company's clean rooms and briefed on the work being performed on the instruments for the Eumetsat MTG (Meteosat Third Generation) weather satellites.
Andreas Lindenthal, a member of OHB System AG's Management Board, was pleased with how the minister's visit went: "In addition to sharing our joy at today's satellite launch, we also exchanged views on the medium and long-term future of the European navigation system Galileo and the next-generation Copernicus Earth observation satellites. OHB System AG is excellently positioned for both programs and will be making valuable contributions to both of them."
*) The Full Operational Capability phase of the Galileo programme is managed and fully funded by the European Union. The European Commission and the European Space Agency (ESA) have signed a delegation agreement by which ESA acts as design and procurement agent on behalf of the Commission. The views expressed here can in no way be taken to reflect the official opinion of the European Union and/or ESA. Galileo is a trademark of the EU.
Contact:
Martina Lilienthal
Head of Corporate Communications
and Investor Relations
Phone: +49 421 2020 7200
Email: martina.lilienthal@ohb.de