Exploration & Science
As part of various projects, OHB is closely involved in space research both as a supplier and as a prime contractor.
This area comprises planetary science, fundamental physics and astrophysics as well as missions for the exploitation of extraterrestrial resources. In addition, there are technology demonstration missions that are relevant to the specified areas.

As Germany's largest space technology company, OHB System also repeatedly takes the initiative and conducts its own self-financed exploration studies. These involve a high degree of interdisciplinary work. In this way, they create new technological approaches and new opportunities for science, research and various branches of industry.

For example, OHB System is currently the prime contractor for the Hera mission. The mission is part of a collaboration between ESA and NASA aimed at demonstrating the defence against an asteroid using an impact probe. The technology demonstration is intended to serve as a dress rehearsal for a real emergency: In the event of a future threat to the Earth from an asteroid impact, the dangerous object could be deflected past the Earth using proven technology.

Further examples of exploration missions with OHB participation are: PLATO – a mission to search for transiting exoplanets, ExoMars – a mission to search for life on Mars, EnVision – a Venus mission and Comet Interceptor – a mission to the tail of a comet.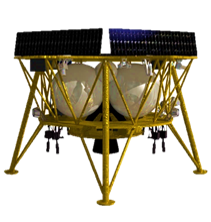 Do you want to fly your payloads to the Moon?

At OHB we envision a sustainable European presence on the surface of the Moon in the next decade, increasing the competitiveness of European stakeholders in the global exploration scenario.
This is why OHB is developing its first commercial exploration service – the Lunar Surface Access Service (LSAS), which will offer flight opportunities for institutional and private customers. The LSAS lander can carry 110 kilograms of payload to the lunar surface, deploy payloads in lunar orbit and is one of the few available landers worldwide with flight heritage. First launch to the lunar south pole: 2025.