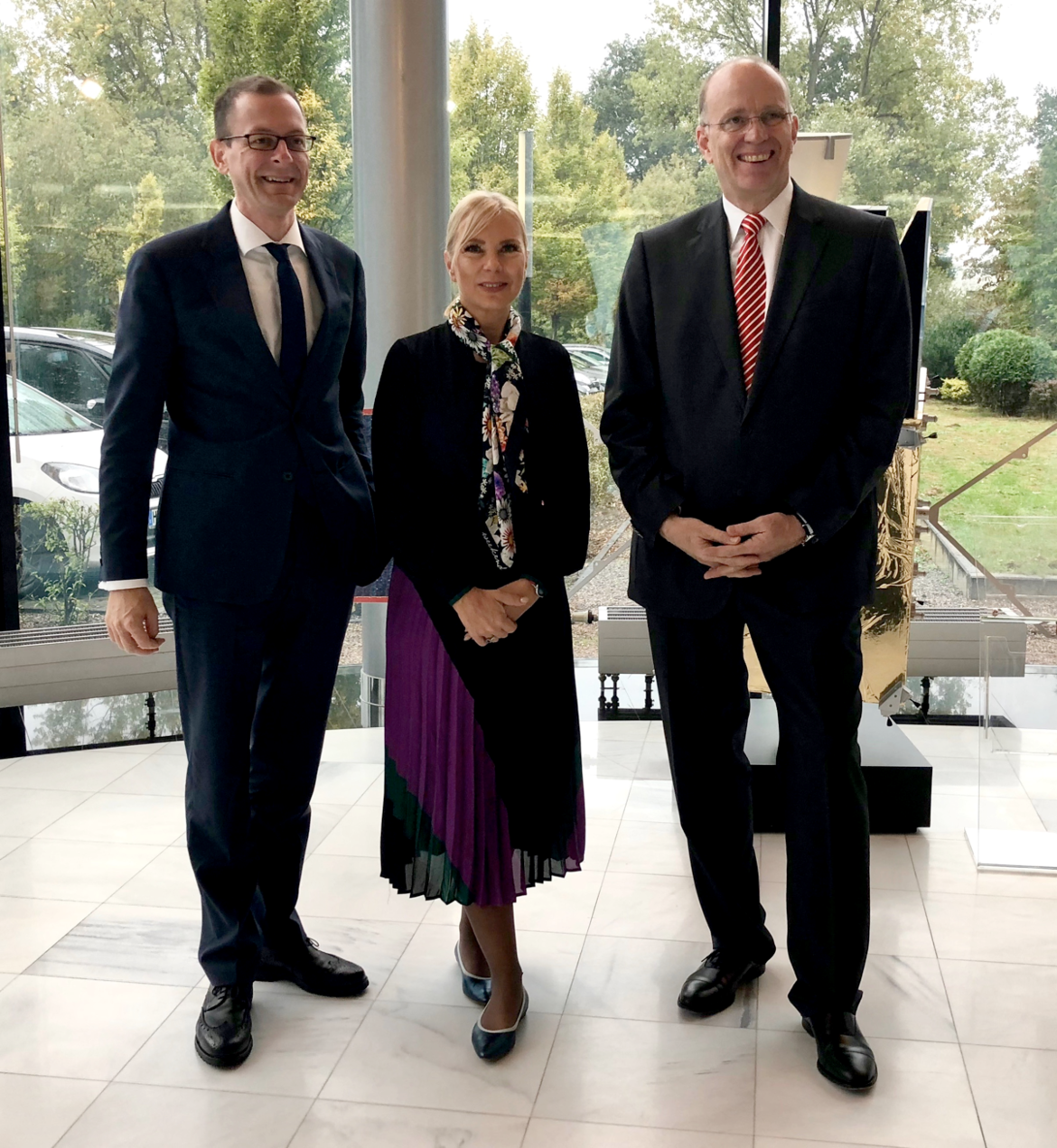 Bremen, October 2, 2018. EU Commissioner for Industry Elżbieta Bieńkowska, accompanied by Bremen's Economics Senator Martin Günthner, visited the space technology company OHB in Bremen. Marco Fuchs, CEO of OHB, welcomed the two politicians and subsequently invited them to talks with other members of OHB's management team. The discussions focused on the further development of the long-standing and successful cooperation between the European Commission and OHB on the Galileo project, the next development stage of the Copernicus Earth observation program and the possible impact of Brexit on Commission missions and programs.
"It means a lot to me that the Commissioner is taking the time for talks and a company tour as part of her busy agenda around her visit to the International Astronautical Congress IAC. This proves how good and trusting the relations between OHB and the EU Commission are," says Marco Fuchs. "In recent years, OHB has written a great story of success and growth, which will be continued with the announced investments at the location in Bremen," says Economics Senator Martin Günthner. "Bremen is a highly attractive business location, especially for the aerospace industry. I am very pleased that Commissioner Bieńkowska was able to convince herself of this during her visit to the City of Space."
After the talks, the Commissioner took a tour of the clean rooms on the company's premises and was shown how the weather satellites MTG and the carrier module for the ExoMars 2020 mission are being integrated.
Contact for media representatives:
Günther Hörbst
Head Corporate Communication
Phone: +49-421-2020-9438
Email: guenther.hoerbst@ohb.de
Contact for investors and analysts:
Martina Lilienthal
Phone: +49 421 - 2020-720
Fax: +49 421 - 2020-613
Email: ir@ohb.de