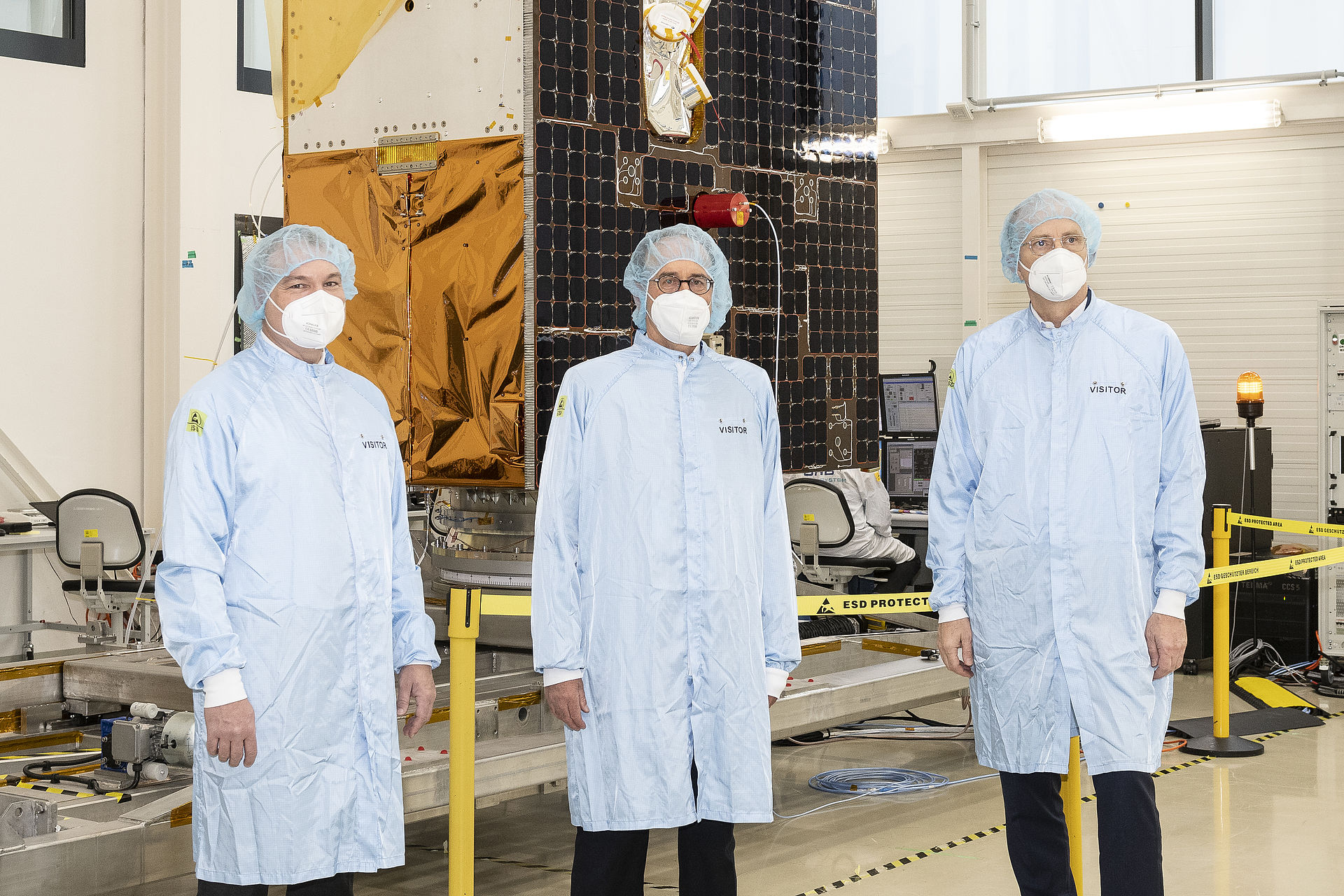 Bremen, February 2, 2022. The German Earth observation satellite EnMAP (Environmental Mapping and Analysis Program), the first hyperspectral satellite to be developed and built in Germany, is still in a clean room at OHB System AG in Bremen. Final work is being carried out; after all, we are now in the home stretch. A small group of visitors from the ranks of customers, clients and partners took a close look at the satellite today before it sets out on its journey to the launch site. Dr. Anna Christmann, Federal Government Coordinator for German Aerospace Policy, joined the event's hybrid element virtually.

EnMAP is scheduled for launch early April 2022 aboard a SpaceX Falcon 9 rocket from the Kennedy Space Center. From an altitude of around 650 kilometers, EnMAP will keep a firm eye on our Earth and record our planet in more than all colours with unique images from space. To do this, EnMAp will analyze the solar radiation reflected back from the Earth's surface. Its spectral high-resolution images gained from a higher perspective can play a central role in the battle against climate change and environmental destruction and provide valuable action pointers for countermeasures.
"We have put a lot of heart and soul and passion into the EnMAP satellite in order to be able to hand over a highly efficient satellite with a globally unique hyperspectral sensor to our customer. As a matter of fact, we built EnMAP for the whole world - after all, every citizen of the Earth will benefit if our Earth is treated with more care in the future," says Marco Fuchs, CEO of the OHB SE. "OHB is also a sought-after partner in European Earth observation programs. The data and images from space will provide science as well as politics and society with valid arguments in favour of climate and environmental protection, and will help to develop solutions for the key challenges of our time."

"EnMAp has technological, scientific and industrial policy objectives for us: It is our trailblazer for hyperspectral remote sensing, a sensor technology that has previously only been used from on board aircraft. We are now applying this technology to an operational satellite mission for the first time," explains Dr. Walther Pelzer, Member of the Executive Board of the German Aerospace Center and Head of the Space Agency at DLR. "For example, we are actually quantatively 'measuring' the properties of components of the Earth's surface - that is, the material composition - which is only possible with hyperspectral remote sensing. A standard camera has 3 colour channels, EnMAP, on the other hand, has more than 220 colour channels that can reach a resolution of 30 meters on the ground from an altitude of 650 kilometers."

"Germany is the global leader in Earth Observation – which is proven again to today. Thanks to EnMAP's innovative hyperspectral sensor technology, the Earth can be observed in unprecedented detail in the future," says Dr. Anna Christmann, Federal Government Coordinator for German Aerospace Policy, explaining the significance of the mission, adding: "We can protect our planet with data obtained from space. EnMAP will help us make global land use sustainable, highlight the consequences of climate change and counteract the ongoing environmental destruction. The satellite is an excellent example of how state-of-the-art space technology can be used for the benefit of mankind and the environment."

"The launch of the satellite will mark a milestone in the history of the GeoForschungsZentrum GFZ Potsdam," says the Director of the GFZ-Department "Geodäsie", Prof. Harald Schuh. "Colleagues have been working with the international EnMAP Science Advisory Group on the mission's research program for many years. They also coordinate the extensive EnMAP-PI project for scientific exploitation preparation and support, which is jointly born by the partner institutions Humboldt University Berlin, University of Greifswald, AWI Bremerhaven and LMU Munich."

"EnMAP is a unique satellite which has been built with the work of many partners and teams, and our greatest thanks go to all of them! The fact that such a highly complex system has taken us and all those involved to the limits of what is technically feasible has also often demanded a lot from all those involved at OHB, at the Space Agency at DLR, but of course also at the GFZ and the many suppliers, and ultimately also from our customers," says Sabine von der Recke, Member of the Management Board at OHB System AG.
The Analytical Laboratory in Space
Satellites can observe the entire globe around the clock, and over a long period of time. In this way, climate change and other changes to the Earth's surface, whether at sea or on land, can be registered and documented. Germany is a world leader in scientific and industrial involvement in Earth observation and is further expanding this with the hyperspectral satellite mission EnMAP: With hyperspectral data, the Earth can be observed with a depth of detail which has been impossible up to now. EnMAP can provide specific information on minerals or pollutants in a certain area and what type of vegetation there is in a selected area, how certain plants are supplied with nutrients or how polluted a body of water is. Collected series of data and data products will represent another essential building block for recommendations to politics and society for necessary action. Understanding the "System Earth" will improve more and more.
The Partners behind EnMAP
The hyperspectral Earth observation satellite EnMAP was developed and built by OHB System AG on behalf of the German Space Agency at DLR with funds from the Federal Ministry of Economic Affairs and Climate Action. The scientific management lies with the German GeoforschungsZentrum in Potsdam. The ground segment was built and will be operated by DLR in Oberpfaffenhofen. EnMAP and especially the new type of hyperspectral data are eagerly awaited by many stakeholders in Germany and around the world.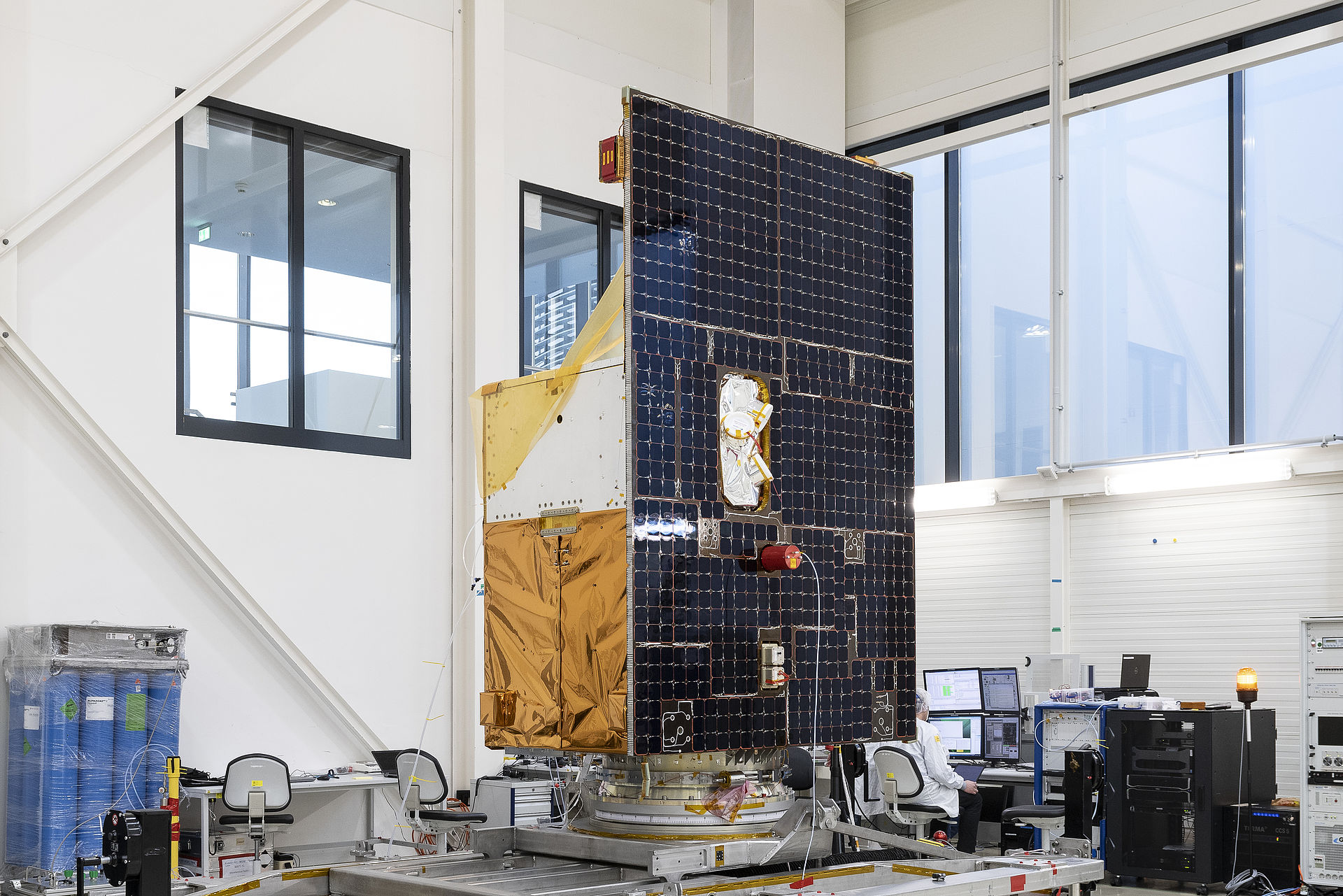 Contact:
Martina Lilienthal
Head of Corporate Communications
and Investor Relations
Phone: +49 421 2020 7200
Email: martina.lilienthal@ohb.de