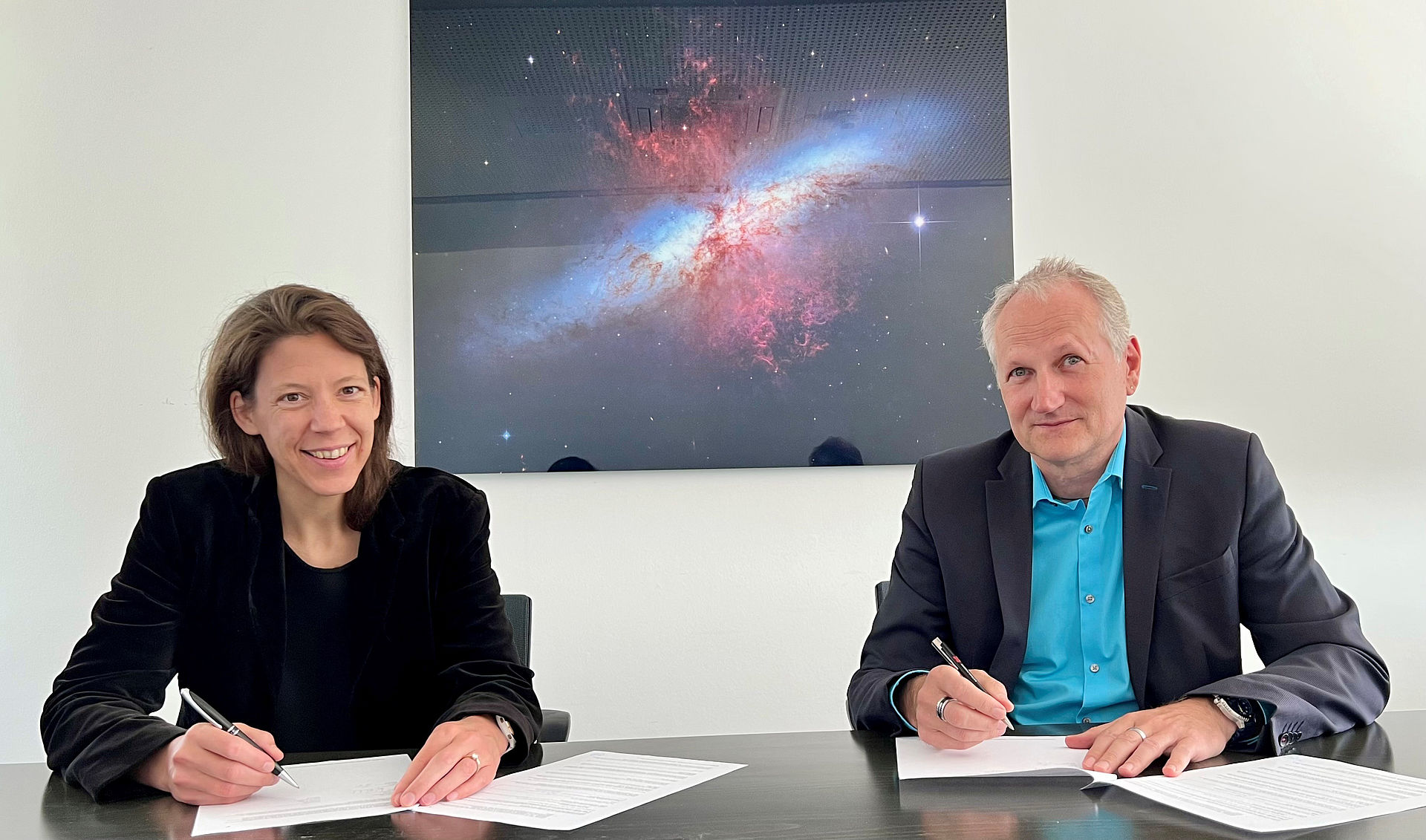 Munich, 17. June 2022. The space and technology group OHB SE and The Exploration Company, a European start-up developing in-orbit exploration vehicles, have signed a Memorandum of Understanding (MoU). Under the collaboration, the partners intend to perform a demonstration consisting of testing The Exploration Company's Guidance, Navigation & Control (GNC) system under real conditions. This cooperation epitomizes the use of OHB lunar lander to accelerate the development of European space technologies.
"We aim to be in a leadership position in this sector. In doing so, we are very aware that the next generation of space innovations is focused on a global, commercial space environment. The collaboration between OHB and The Exploration Company aims to pave the way for access to space with innovative solutions", said Dr Lutz Bertling, Member of the Board OHB SE. OHB will accommodate The Exploration Company's GNC on their Lunar Surface Access Service (LSAS) that is planned to land on the Moon in 2025.
"Together we are focusing on a New Space activity consisting of technological and business model innovations, leading to significant cost and schedule reductions in exploration missions and thus reinforcing the position of Europe. Besides that, it is essential to create a European early lunar access capability now, otherwise Europe will lose the momentum and allow other nations to step forward", stated Dr Timo Stuffler, Director of the Business Development. The Exploration Company will fly its pilot lunar GNC system with LSAS. It will act virtually in a real lunar environment – hence not guiding for real LSAS but using real time lunar data to send "virtual commands" for the analysis and evaluation of its lunar GNC system efficiency.
"Thanks to the cooperation with OHB, we are able to test our technology in a real environment that allows us to accelerate and de-risk our tech roadmap," said Hélène Huby, Chief Executive Officer at The Exploration Company. "The GNC system that will be developed based on the lunar lander will lower the barriers for the introduction of the planned Moon mission with The Exploration Company's orbital vehicle Nyx in 2028."

About OHB
OHB SE is the third largest supplier of space systems in Europe and the German space technology company. With many years of experience in the development and implementation of demanding projects, the OHB Group is able to offer its customers a broad portfolio of innovative products and services in three business units (Space Systems, Aerospace & Industrial Products and Digital). As a reliable partner to both government institutions and private companies, the OHB Group has grown steadily in recent years, generating revenues of over EUR 1 billion for the first time in 2019. For more information, visit ohb.de.
About The Exploration Company
The mission of the French-German company is to democratize space exploration for space and non-space industries. To realize this mission, The Exploration Company develops, manufactures, and operates Nyx, a modular and reusable orbital vehicle which can be refuelled in orbit. Nyx serves the low Earth orbit (LEO) and lunar destinations and starts with carrying cargo, with the growth potential to fly humans afterwards. The Exploration Company was founded in 2021 by experienced engineers and has raised one of the biggest Seed Series in Europe backed by tier-one investors (Promus Ventures, Cherry, Vsquared). For more information, visit exploration.space.
Contact for media representatives:
Günther Hörbst
Head Corporate Communication
Phone: +49-421-2020-9438
Email: guenther.hoerbst@ohb.de
Contact for investors and analysts:
Martina Lilienthal
Phone: +49 421 - 2020-7200
Fax: +49 421 - 2020-613
Email: ir@ohb.de