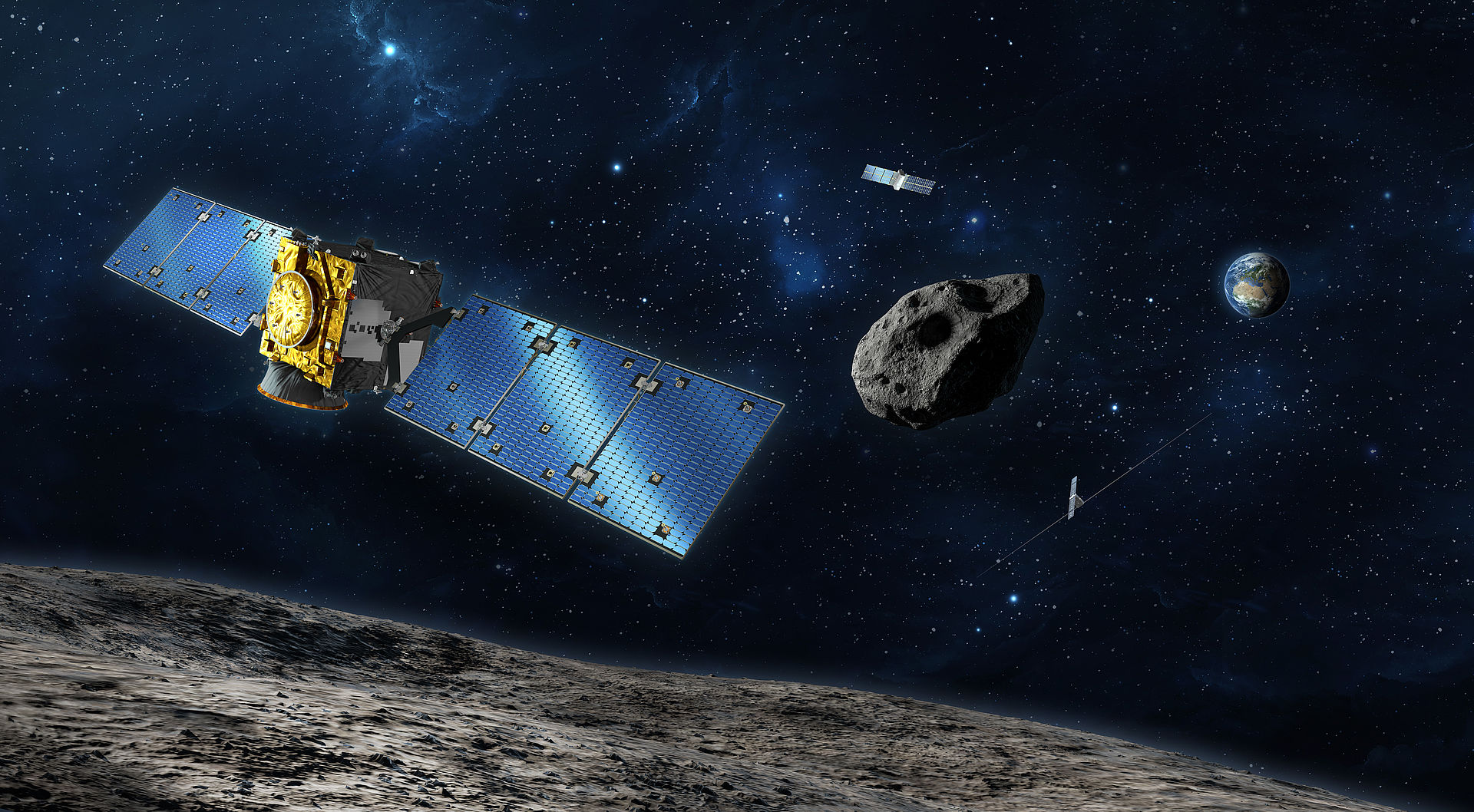 Bremen, 26. September 2022. Today is the day: NASA's DART spacecraft will collide with the asteroid Dimorphos, thereby deflecting it from its orbit. Although Dimorphos does not pose a threat to Earth, the impact is intended to serve as a test for a future asteroid defence strategy. DART (Double Asteroid Redirection Test) is the first part of the AIDA mission (Asteroid Impact and Deflection Assessment), which is being implemented jointly by NASA and the European Space Agency (ESA). The second part is the European Hera probe, the development of which is being led by OHB as prime contractor. Hera is scheduled for launch in 2024 and will analyse the effects of DART's impact on Dimorphos.
Well over 1 million asteroids have already been discovered in our solar system. A good 1,400 of them are on the ESA's risk list due to their trajectory and size and are under special observation. The reason for this is that it is only a matter of time before one of these asteroids sets course for Earth.
Rehearsal for a real emergency
With the AIDA mission, ESA and NASA are rehearsing for an emergency. The mission is the world's first attempt to deliberately change the trajectory of a celestial body. As the test object, the smaller body of the near-Earth double asteroid Didymos was chosen. This body has a diameter of just under 160 metres and is called Dimorphos. NASA's DART impact probe was launched from Vandenberg Space Force Base in California on 24 November 2021 and will collide with Dimorphos at a speed of about 6 kilometres per second tonight at 01:14 German time. On impact, the spacecraft will be completely destroyed.
The effects of the impact will therefore be analysed with a second probe: Hera. The Hera probe is the European contribution to the AIDA mission and is currently being developed by OHB as the prime contractor. The launch is scheduled for early October 2024.
Stefan Voegt, Hera Project Manager at OHB, is looking forward to the imminent impact of DART: "We are keeping our fingers crossed for the DART team to hit the bull's eye and are eager to make our own contribution to this spectacular mission with Hera."
Foundation for a planetary defence strategy
After a flight time of about two years, Hera will reach the Didymos system towards the end of 2026. There, the probe will analyse the impact site in detail and determine, among other things, how much material was ejected from the surface of Dimorphos. Only these data will allow a comprehensive interpretation of the effects of DART's impact and thus an assessment of the fundamental effectiveness of an impact probe for asteroid defence. If confirmed, this would lay the foundation for a practically applicable planetary defence strategy.
NASA has set up two official livestreams to allow the public to participate in the impact of DART:
https://www.youtube.com/watch?v=4RA8Tfa6Sck
https://www.youtube.com/watch?v=-6Z1E0mW2ag
Contact:
Martina Lilienthal
Head of Corporate Communications
and Investor Relations
Phone: +49 421 2020 7200
Email: martina.lilienthal@ohb.de