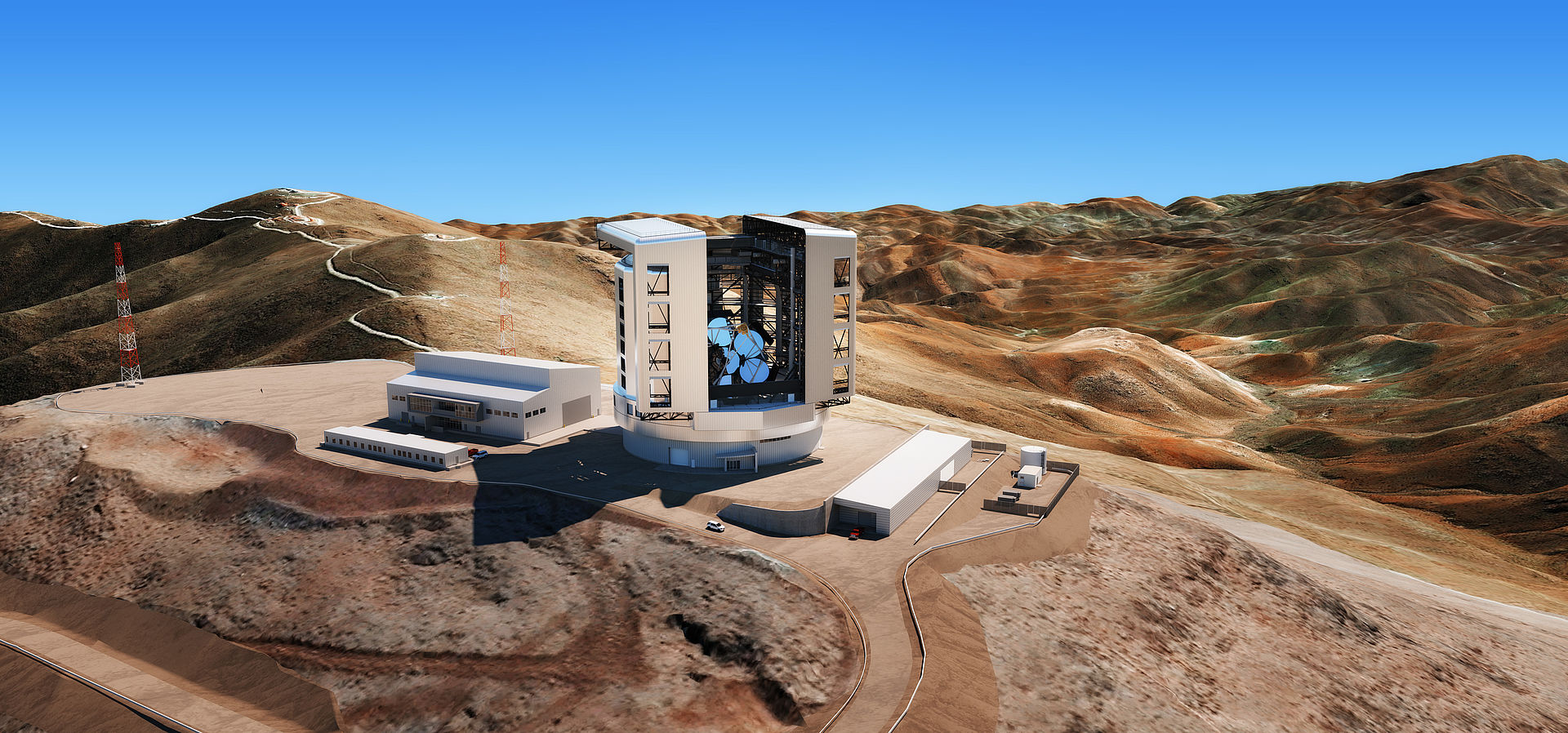 Mainz, April 1, 2021. OHB Digital Connect, a subsidiary of the space group OHB SE, has successfully completed the preliminary design review (PDR) for the Giant Magellan Telescope (GMT) project. The OHB subsidiary, which constitutes the OHB Group's telescopes, antennas & smart mechatronics business segment, signed the contract for the design, construction and installation of the telescope structure together with Ingersoll Machine in November 2019. The completion of the PDR means that the scheduling, design and quality stages of the project have now been accepted by the customer, GMTO Corporation, a consortium of leading universities and scientific institutes. With a diameter of 24.5 meters, the GMT is a next-generation large-scale telescope.
"The technology fitted to the GMT will revolutionize our understanding of science in the universe. Its seven primary mirrors, each 8.40 meters in diameter, will reflect light from the edge of the universe that arose a few thousand years after the Big Bang. The smaller secondary mirrors will guide these light rays to special devices that will measure the distance of the celestial bodies observed and determine their composition," explains Volker Grimm, project manager at OHB Digital Connect.
About 10 times more sensitive than the Hubble Telescope
Located in the Chilean Atacama Desert at an altitude of 2,550 meters, the GMT will be about 10 times more sensitive than the Hubble Telescope. Due to the dry climatic conditions, the GMT's location on top of the Las Campanas Peak offers ideal conditions for 300 cloudless nights of observation each year. However, the GMT's future home is not without risks: An average of six earthquakes per month impact the area and, obviously, the telescope must be able to withstand them. "To meet this challenge, a separate earthquake mitigation system has been developed to protect the telescope over its lifetime of 50 years and beyond," explains Volker Grimm. During operations, a hydraulic bearing system with direct drives will align the steel behemoth with its weight of 1,800 tons. At the heart of the mechanical structure is the Gregorian instrument rotator, which will house the optical instruments and place them in the desired observation position like a turret drum. "Its accuracy forms the basis of scientific activity, which will provide humanity with astonishing insights about the past and future of the galaxy. However, this success can only be achieved with personal commitment, outstanding team spirit and enthusiasm for the task at hand alongside a large helping of expertise. And the Mainz team definitely fits the bill," says Dennis Winkelmann, Managing Director of OHB Digital Connect.
Contact:
Martina Lilienthal
Head of Corporate Communications
and Investor Relations
Phone: +49 421 2020 7200
Email: martina.lilienthal@ohb.de