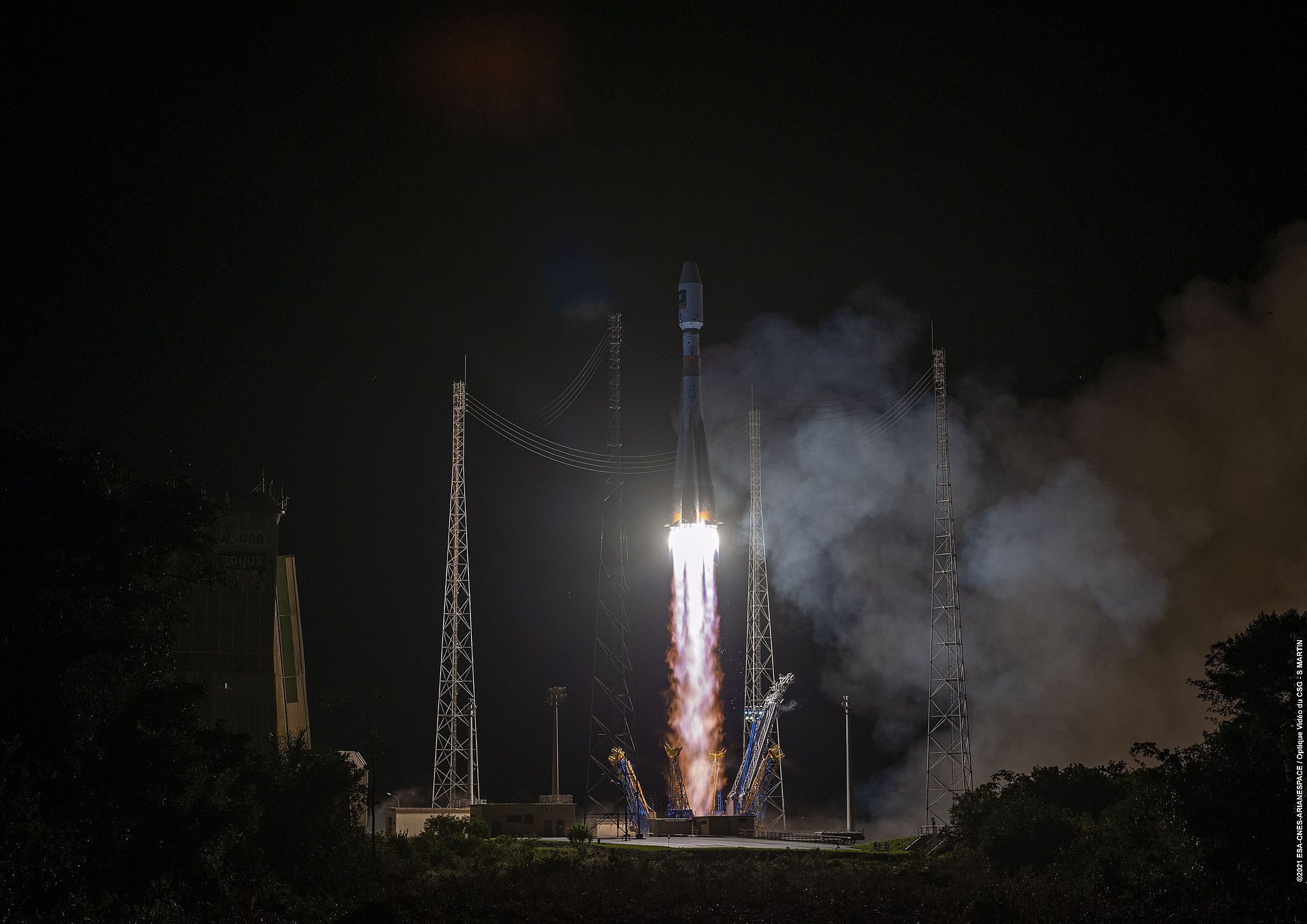 Kourou/Bremen, December 5, 2021. "Trois, deux, un, top, décollage" – were the words resonating around the Kourou space port in French Guiana in the early hours of the morning German time. And there was a very special reason for this: At 1.19 a.m. (CET), the first two Batch 3 Galileo FOC satellites lifted off from the spaceport on board a Soyuz launcher. The launch went off smoothly and the OHB employees were able to track the satellites via a night-time live stream as they reached their target orbit at half past five after almost four hours of flight time. OHB System AG, a subsidiary of space group OHB, is the main industrial contractor for the Galileo FOC satellites.

"Once again, the OHB team successfully completed all the tasks right up to the launch on schedule despite the numerous restrictions resulting from a strict curfew in French Guiana. As always, we did our best to achieve a perfect launch," says Alain Pajonk, Galileo Launch Campaign Manager at OHB.
"Breathless through the night"
To quote German pop singer Helene Fischer's hit song, everyone in Bremen was "breathless through the night", not to mention "sleepless", because the Galileo team had gathered virtually to watch the night-time launch event as the launcher headed for the target orbit roughly 23,000 kilometers above the earth. Things got exciting towards half past five. "About a minute after FM 23 & 24 had been released by the Soyuz, the satellites were activated and started to unfold their solar panels and align them with the sun. During such events, time suddenly slows down as everyone waits for the redeeming signal from our people at the control center in Oberpfaffenhofen near Munich," says Dr. Kristian Pauly, Director of Navigation at OHB. The good news is that the suspense didn't last long as the control center confirmed that the satellites were functioning correctly.
Next launch expected in the spring 2022
Following the latest launch, 28 Galileo satellites, 24 of which have been designed and integrated by OHB, are now orbiting in space. The European Space Agency has awarded OHB a contract for the delivery of a total of 34 Galileo satellites. This means that the OHB team should be able to celebrate the next launch before too long: The FM 25 & 26 satellites are already in the starting blocks and are scheduled for launching between March and April.

The Full Operational Capability phase of the Galileo programme is managed and funded by the European Union. The European Commission, ESA and EUSPA (the EU Agency for the Space Programme) have signed an agreement by which ESA acts as design authority and system development prime on behalf of the Commission and EUSPA as the exploitation and operation manager of Galileo/EGNOS. "Galileo" is registered as a trademark in the database of the European Union Intellectual Property Office (n° 002742237)
Contact:
Martina Lilienthal
Head of Corporate Communications
and Investor Relations
Phone: +49 421 2020 7200
Email: martina.lilienthal@ohb.de