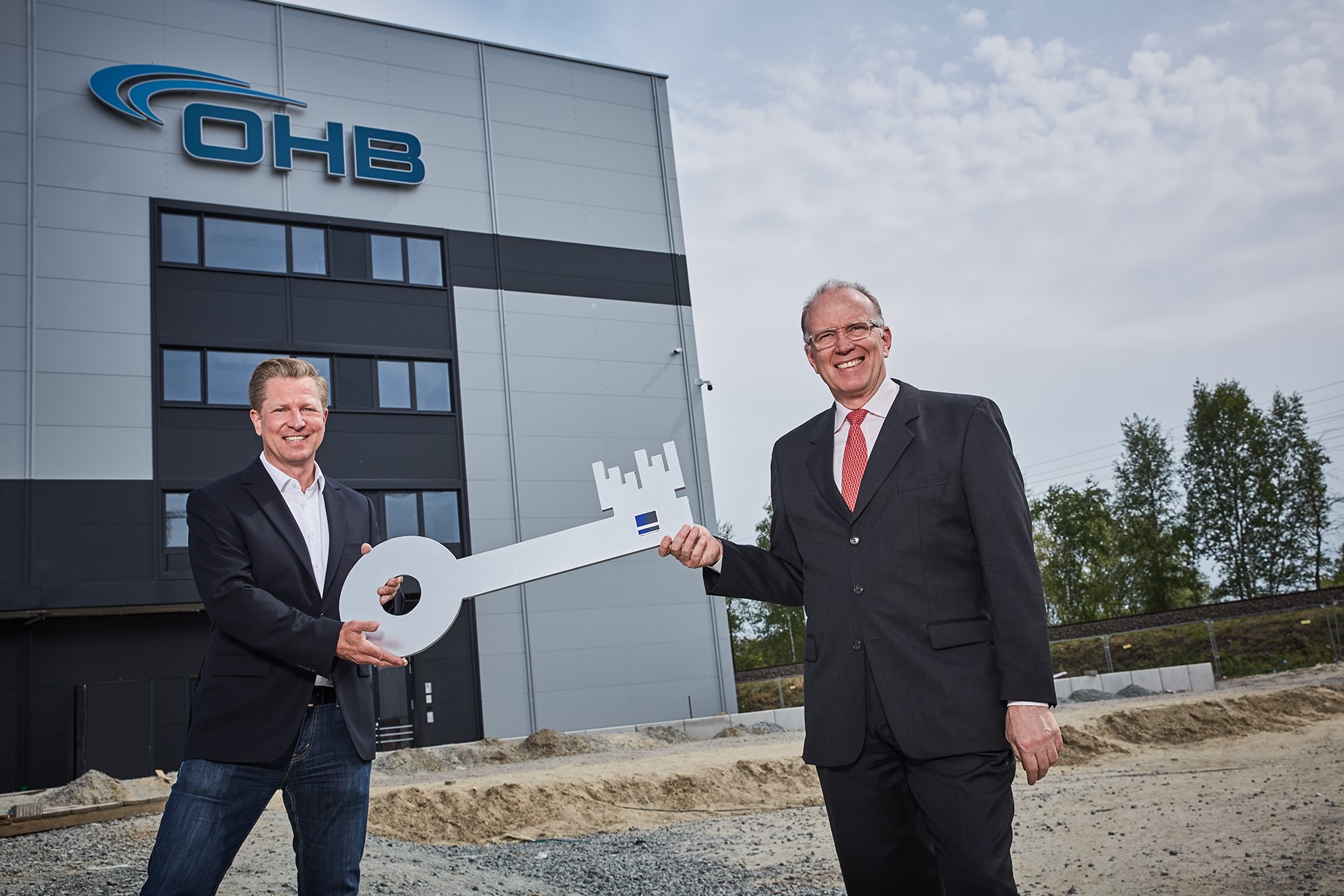 Bremen, April 13, 2021. Almost a year after operations started up in its newest and largest clean room, OHB has received some great news: The PLATO hall has been selected by the Bremen Chamber of Architects for Architecture Day 2021. On this special day, which will be taking place this year on Sunday, June 27, special architectural buildings throughout Germany will be opening their doors to interested guests. This year, the theme of the day is "Architecture shapes the future". Depending on the course of the pandemic, the event may also be held as an online format.
"Entering the PLATO hall always puts me in a good mood. The building is fresh, modern and geared towards OHB's future. That's why I am proud that our hall has been chosen for Architecture Day and we will soon have the opportunity of allowing visitors to experience its modern atmosphere," says Marco Fuchs, CEO of OHB.
OHB's latest ISO 8 cleanroom has a floor area of around 1,400 square meters. About 2,000 cubic meters of concrete and 440 tons of steel were needed for the construction of the integration hall. The planning team attached great importance to sustainable design in the construction project.
Modern open-plan office space covering a further 1,900 square meters has been built directly adjacent to the cleanroom facility. The construction project has a budget of around EUR 14 million.
The five-storey building complex was built in record time: It took only 14 months from the groundbreaking date to the inauguration ceremony. "Everyone who had previously built similarly sophisticated buildings told us that it would never be possible to complete such a complex building in such a short space of time. However, thanks to the great cooperation between the planners, companies and authorities together with the support of the client, we succeeded in doing precisely this," says Arne Schlichtmann, the responsible architect at KAARS I SCHLICHTMANN Planungsgesellschaft mbH.
Contact:
Martina Lilienthal
Head of Corporate Communications
and Investor Relations
Phone: +49 421 2020 7200
Email: martina.lilienthal@ohb.de