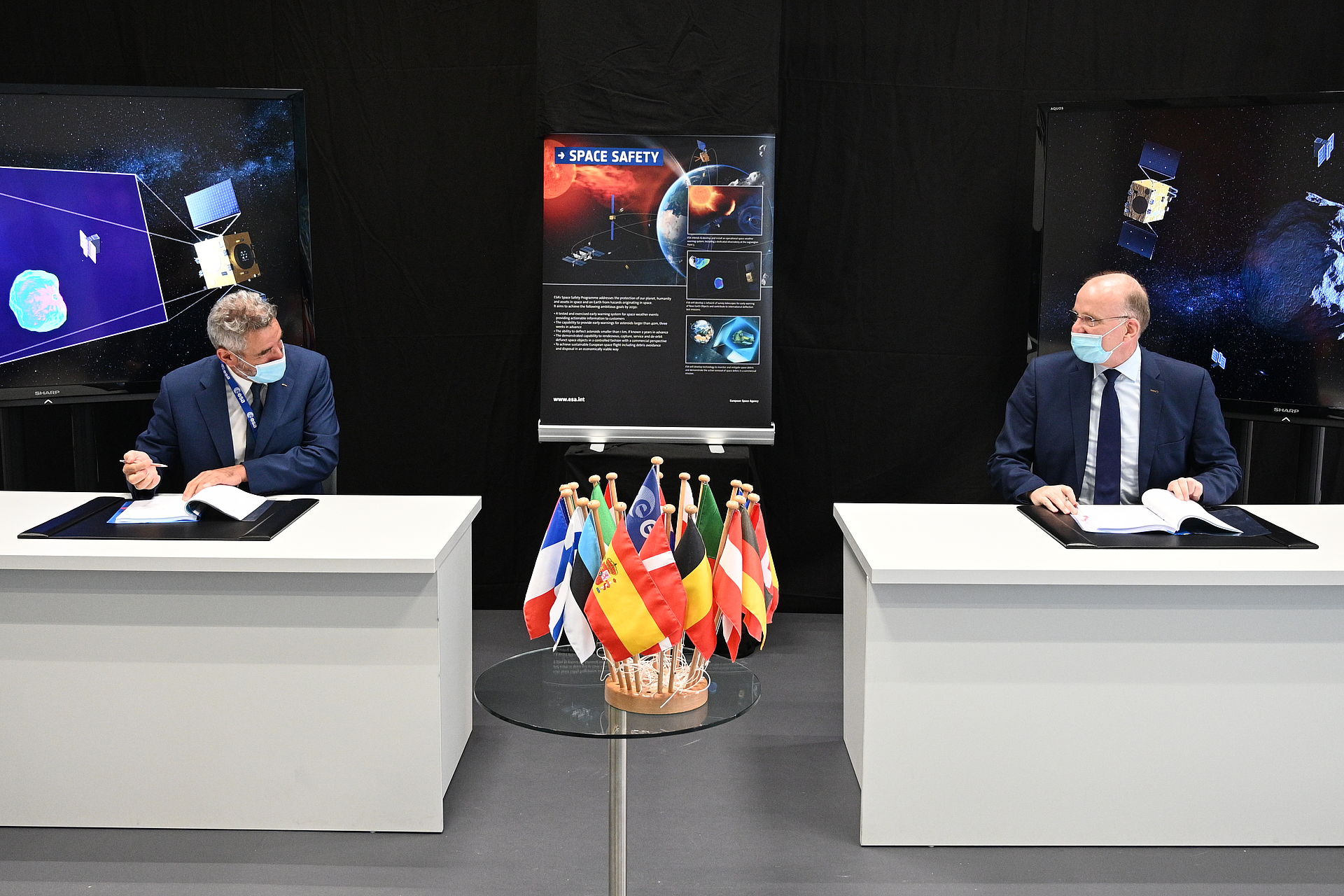 Bremen/Darmstadt, September 15, 2020. During a virtual Hera mission workshop held today, Franco Ongaro, ESA Director of Technology, Engineering & Quality, and OHB CEO Marco Fuchs signed a contract appointing OHB System AG, a subsidiary of the space group OHB SE, as the main industrial contractor for the Hera asteroid mission. The contract has a value of EUR 129 million. OHB will be lead-managing the industrial consortium consisting of companies from 17 ESA member states and, among other things, will be responsible for designing and integrating the Hera vehicle.
"I am glad and proud that OHB is also playing a decisive role in the major issue of space safety. This is because the dangers from outer space are real. There are millions of boulders there that could wipe out life on the earth in the event of a collision," says OHB CEO Marco Fuchs.
By working on Hera, OHB is participating in the AIDA (Asteroid Impact Deflection Assessment) international NASA- and ESA-supported collaboration that will combine the data obtained from NASA's DART (Double Asteroid Redirection Test) mission and ESA's Hera mission to produce the most accurate knowledge possible from the first demonstration of an asteroid deflection technology.
Hera's task will be to investigate in detail the effect of the DART impact on Dimorphos with the help of various cameras and scientific instruments. The findings are to be incorporated in the development of a viable technical solution for global asteroid defense.
As in many space projects, one of the largest challenges in executing Hera is the tight schedule. Scheduled to launch in July 2021, DART is to impact Dimorphos in September 2022. The Hera probe is scheduled to launch in October 2024. "The four years ahead of the launch have been meticulously timed. The Hera probe is a new technological development and therefore a major challenge. I am sure that our Hera team at OHB will successfully master this and am glad that we are finally getting officially started," says Dr. Stefan Voegt, the Hera project manager at OHB.
In the next step, OHB as the main contractor will now start the specific implementation of the project with its partners, service providers and suppliers.
Contact:
Martina Lilienthal
Head of Corporate Communications
and Investor Relations
Phone: +49 421 2020 7200
Email: martina.lilienthal@ohb.de