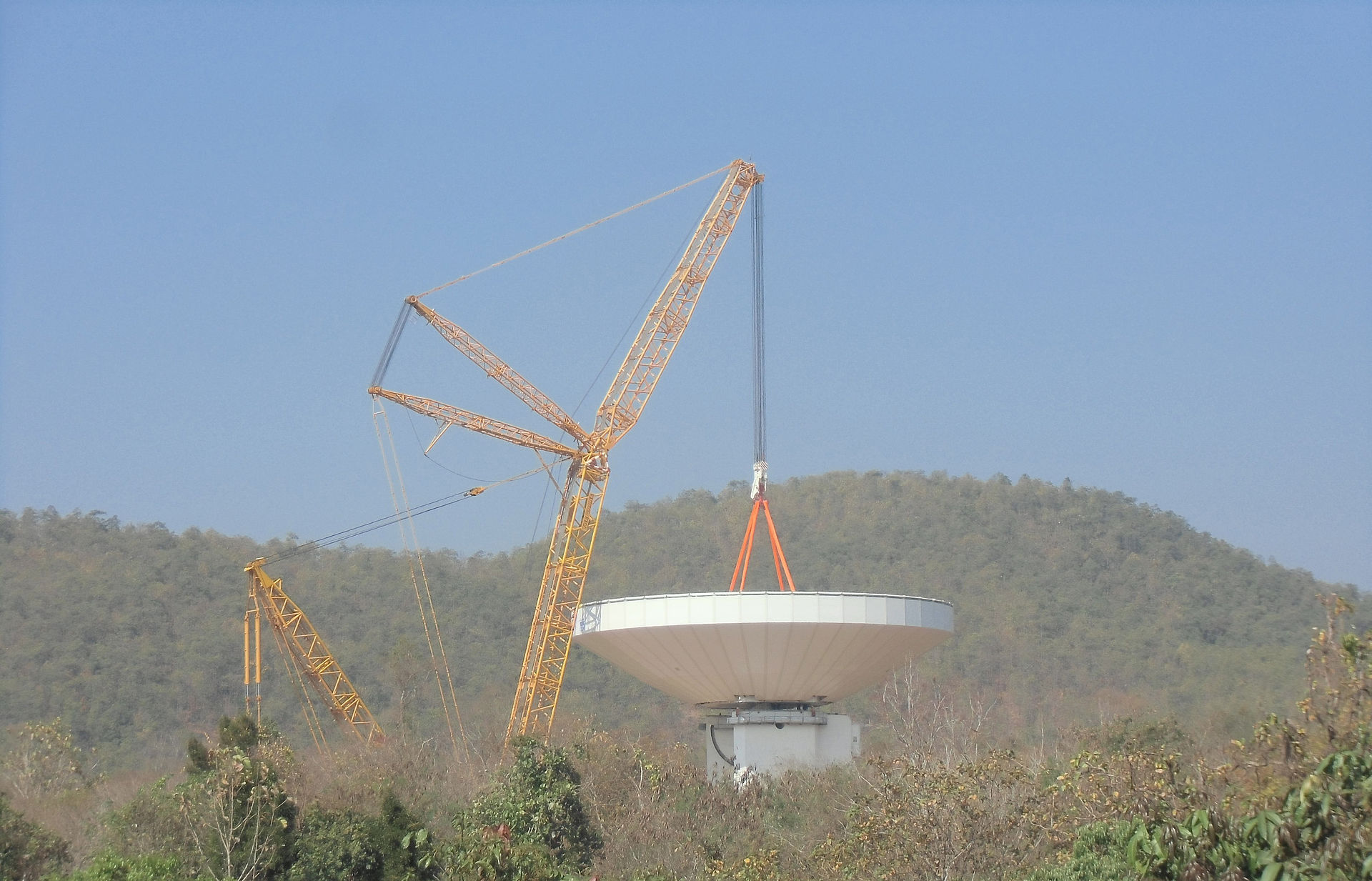 Chiang Mai/Mainz, February 06, 2020. Today, the Mainz-based antenna and telescope equipment specialist MT Mechatronics GmbH (MTM) and a subsidiary of the space technology group OHB SE, passed another milestone in the completion of the 40-meter radio telescope for the National Astronomical Research Institute of Thailand (NARIT) in Chiang Mai. The 250-tonne reflector was placed on the steel substructure during the big lift. The radio telescope is a turning-head model, which is equipped with a rotating reflector. It operates in a frequency range of between 5 and 100 gigahertz (GHz). The telescope is to be completed and handed over to NARIT at the end of June 2020.
With a height of around 45 meters, the radio telescope is located in the middle of a forest in northern Thailand, about an hour's drive from the city of Chiang Mai. With this contract, the Mainz-based telescope manufacturer MTM is taking a decisive step in opening up a new sales territory. "We know that looking forward there are other antenna and telescope construction projects in the pipeline in the Thai market and hope to receive follow-up orders. We have been able to demonstrate our expertise with the construction of the turning-head model," says MTM project manager Steffen Hartmann.
Designed in Mainz
MTM is responsible for the complete design of the radio telescope, including motors, control technology and drive. The Mainz-based company has also supplied the 450-ton steel structure in cooperation with a Thai steel construction company. Before the telescope goes into operation at the end of June, engineers will be carrying out various functional tests on site. The project has a total value of EUR 12 million.
Alongside the 40-meter telescope that MTM has also assembled for Instituto Geográfico Nacional in Spain, it is one of the largest and most powerful telescopes of its type. With this contract award, MTM is positioning itself in the international market and again confirming its status as a market leader in large-antenna and telescope engineering.
Contact:
Martina Lilienthal
Head of Corporate Communications
and Investor Relations
Phone: +49 421 2020 7200
Email: martina.lilienthal@ohb.de