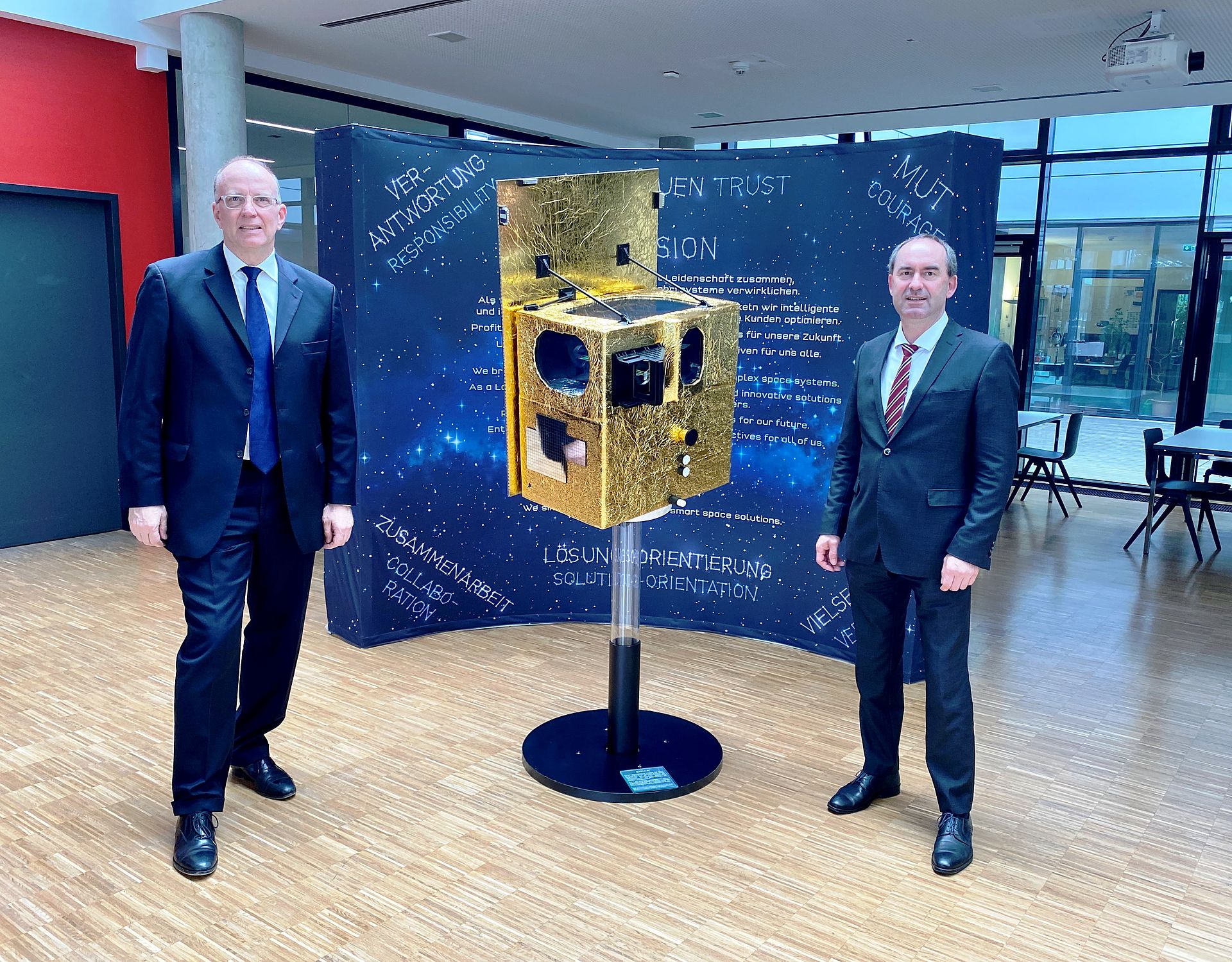 Oberpfaffenhofen, July 6, 2020. Hubert Aiwanger, State Minister for Economic Affairs, Regional Development and Energy and Deputy Prime Minister of the Free State of Bavaria, visited OHB System AG at the Oberpfaffenhofen space technology site today to find out about current space projects and future-oriented topics of the OHB Group.
Tracking climate change
State Minister Aiwanger congratulated the company on a tender it recently won that represents a further milestone in its history: The OHB Group could convince in important tenders for the Copernicus European Earth observation program and will thus be making a crucial contribution to the success of a further major EU space program alongside Galileo. OHB System AG was selected as the industrial prime contractor for a mission that is to track carbon dioxide, a harmful greenhouse gas. Looking forward over the next few years, it will be working on the CHIME mission at its Oberpfaffenhofen site, where specialists from the OHB Space Center "Optics & Science" will be responsible for building the hyperspectral instrument. Hyperspectral images enable scientists a global view on the Earth's surface and provide information on climate changes and the state of nature and the environment. "OHB makes a crucial contribution to the strength and technological performance of the Bavarian space industry. Particularly in view of the crisis in the aviation industry due to corona, it is important to further stabilize and support the space technology sector, which is strong in Bavaria. Many suppliers and applications, ranging from new materials to Earth observation, depend on space industry. Among other things, the system provider OHB is conducting satellite programs in Oberpfaffenhofen, which we want to continue supporting," says State Minister Hubert Aiwanger.
OHB deeply rooted in Bavaria
"We are deeply committed to Bavaria as a prime location in the space sector. Bavaria forms an essential part of the German space sector as it is home to leading universities and research institutes as well as a successful mix of established space industry companies and start-ups. At the OHB site in Oberpfaffenhofen, we have created unique conditions for developing, testing and manufacturing high-resolution optical systems and mechanisms for subsequent use in space," says Marco Fuchs, Chief Executive Officer of OHB SE, who considers precisely these skills and technical facilities to be an ideal complement to the OHB Group's portfolio.
Bavaria a high-tech state
"The Oberpfaffenhofen space technology hub is benefiting from Bavaria's high-tech agenda," adds Dr. Bertling, a member of OHB SE's Management Board. "We have submitted proposals to the Minister showing how innovative space projects applying new-space approaches – such as industrialization, additive manufacturing and smart manufacturing – can advance high technology in Bavaria and yield great benefits for the Bavarian population."
Hans Steininger is a member of the Management Board of Augsburg-based MT Aerospace AG, which is also part of the OHB Group. He used the visit to address current issues facing his company, which assembles large structures and tanks for the European Ariane launcher program as well as for the aviation sector. These issues include the importance of further development contracts for the Ariane 6 launcher as well as additive manufacturing processes.
Secure quantum communications hold great potential for the future. "OHB has laid the foundations here at an early stage," adds Dr. Lutz Bertling. "We are involved in quantum technology in close cooperation with other companies and institutions from very different industries. Even a cursory glance at this complex matter shows how important an early investment in a secure quantum communications infrastructure is. Bavaria should also pursue its proven high-tech strategy in this field."
View into the clean rooms
During the guided tour of the company, the State Minister and the persons accompanying him were informed of selected space programs and were able to observe the work being performed in the clean rooms through large viewing windows. Chief Technical Officer Chiara Pedersoli explained the complex optical systems that are currently being worked on: "With our optical instruments and elements, we are making a material contribution to ensuring that the next-generation European weather satellites, MTG (Meteosat Third Generation) can make weather forecasts that are more precise and can look further into the future, while coordinating disaster relief operations, for example after heavy rainfall and ensuing flooding, more effectively.
Equally as useful will be the data from the EnMAP environmental satellite which OHB is building under contract from the German Aerospace Center. In simple terms, this project is also about gaining a better understanding of the Earth as a system, as Chiara Pedersoli explains: "The national EnMAP mission uses a hyperspectral analysis of the sunlight reflected from the Earth's surface to generate global data on the state of and changes in ecological and aquatic systems. This will provide new types of data, allowing us to expand and deepen our knowledge."
Corona casting its shadow
The visit was overshadowed by the coronavirus, which necessitated the observance of hygiene and distancing rules. Obviously, the effects of the pandemic were also discussed. So far, space is still in a relatively good position compared with other industries, but the industry feels that the foundations must now be laid for securing the necessary budgets in the future for ensuring that space and, above all, its benefits for society are not sacrificed on the altar of austerity.
Finally, OHB showed the minister an example of how the space sector can be of benefit to the public even in times of corona: questions of hygiene and related protection strategies are part of the daily routine in the space industry. Optical systems in particular must be launched into space free of any contamination in order to achieve their full functionality. OHB has joined forces with its partners from Germany to develop a proposal for the use of reusable protective clothing for medical purposes based on the processes used in the space sector to avoid dependence on other countries.
Contact for media representatives:
Günther Hörbst
Head Corporate Communication
Phone: +49-421-2020-9438
Email: guenther.hoerbst@ohb.de
Contact for investors and analysts:
Martina Lilienthal
Phone: +49 421 - 2020-720
Fax: +49 421 - 2020-613
Email: ir@ohb.de