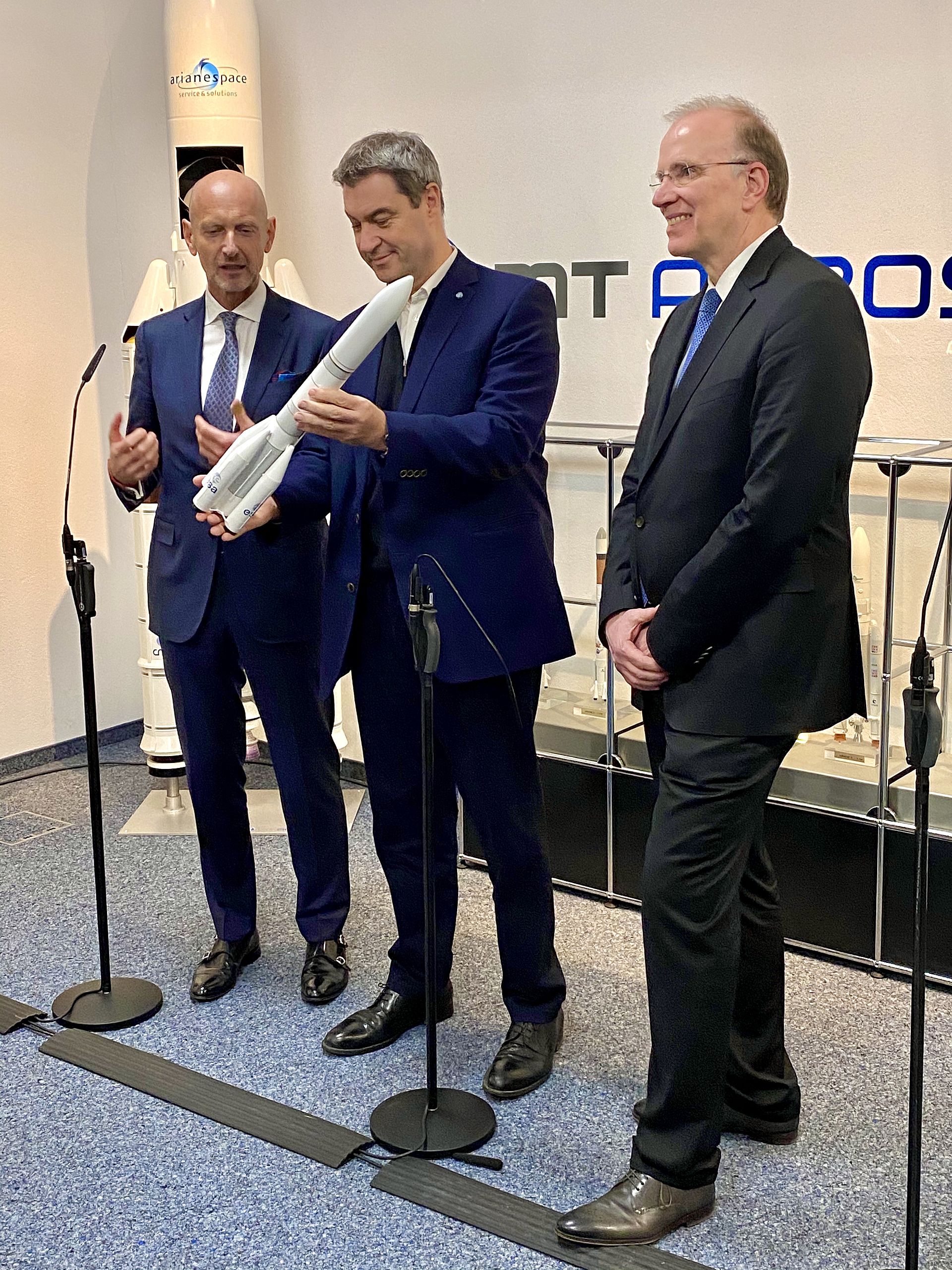 On Monday, February 3, 2020, the Bavarian Prime Minister Dr. Markus Söder visited the aerospace company MT Aerospace AG, a subsidiary of OHB SE, in Augsburg. He was welcomed by Hans Steininger, CEO of MT Aerospace AG, and Marco Fuchs, CEO of OHB SE. The central theme of the visit was MT Aerospace AG's future prospects following the resolutions passed at the ESA Council of Ministers Space19+ conference last November, as well as New Space strategies for expanding Bavarian leadership in Germany and Europe.
"At the pulse of the European rocket production at MT Aerospace in Augsburg: This is where the new Ariane 6 and mini-launchers are being built. Thereof climate protection, agriculture, transport and communications benefit. Bavaria should be a region of researchers, pioneers and discoverers", said Dr. Markus Söder during his visit.
The Prime Minister was given a guided tour of the new production halls for the European Ariane 6 launcher. In its capacity as design definition authority, MT Aerospace AG is responsible for developing and assembling the tanks and structures for Europe's flagship for independent access to space. With a delivery share of just under 11 percent, MT Aerospace is the largest supplier alongside the systems leader ArianeGroup.
"At the 2019 Council of Ministers conference, Bavaria played a crucial role in ensuring that MT Aerospace can look forward to a positive future at its Augsburg site. This will enable the company to tap new potential for growth in areas such as CFRP technologies, 3-D printing, automated production and digitization over the next years. The new projects will help to secure 75 high-tech development jobs at the Augsburg site; in addition, there will be opportunities for creating further jobs in engineering," said Hans Steininger, CEO of MT Aerospace AG. "Complementary to these activities, MT Aerospace is developing a small commercial launcher in our start-up "Rocket Factory" in Augsburg. Together with the OHB initiative for the automated production of small satellites, Bavaria will be able to position itself as a center for new space applications."
"OHB and its subsidiaries have had a strong presence in Bavaria for many years," says Marco Fuchs, CEO of OHB SE. "In addition to MT Aerospace AG, we are also active in the carrier segment with our start-up Rocket Factory Augsburg: We want to offer a solid and inexpensive mini-launcher from 2021. This will give OHB a broader base as a German space technology company and help us to make more attractive offers to our customers. In Bavaria in particular, where OHB employs 1,650 people, we are demonstrating that we are active across the entire spectrum of modern space flight, from launchers to sophisticated optical instruments."
Contact:
Martina Lilienthal
Head of Corporate Communications
and Investor Relations
Phone: +49 421 2020 7200
Email: martina.lilienthal@ohb.de