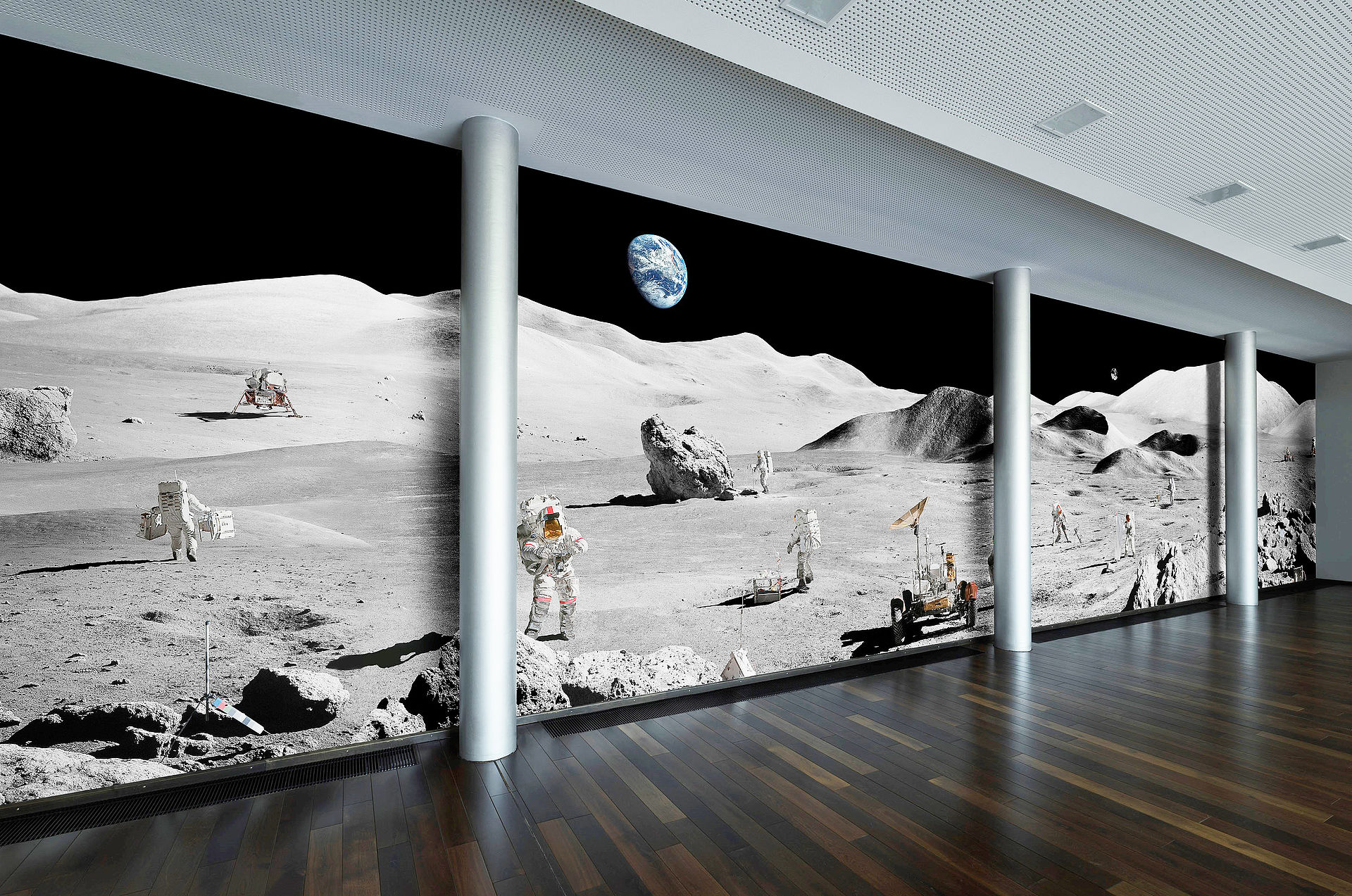 Bremen, July 2, 2020. For several days now, Bremen-based space company OHB's event center has been boasting an impressive eye-catcher: a lunar landscape measuring 80 square meters extends across the entire sidewall. The twelve Apollo astronauts can be seen moving between the lunar craters. The moon and the astronauts form part of a photographic collage by the artist Michael Najjar entitled "Lunar Explorers". The installation of the photo wall at OHB marks the completion of the world's first project of this kind by Najjar.
"The photo collage pays homage to the first lunar landing roughly 50 years ago," explains Michael Najjar. "Using special cameras, the Apollo astronauts took thousands of photos; these unprocessed versions of original NASA scans form the starting material from which the work of art was created." Marco Fuchs, CEO and owner of OHB, is delighted. "We talked a lot about how such an installation would fit into the room. The result left me speechless," says Fuchs. "Michael Najjar's work of art is a unique homage to the pioneering years of space and gives our Luna an aura which is hard to resist".
According to the artist, the composition of the moon landscape is intended to convey the emptiness of the untouched territory while simultaneously documenting the first scientific human activities on another celestial body. The collage shows the twelve astronauts walking and working together on the lunar surface, conducting experiments, collecting rock samples, riding on the Lunar Rover and taking photos.
Contact for media representatives:
Günther Hörbst
Head Corporate Communication
Phone: +49-421-2020-9438
Email: guenther.hoerbst@ohb.de
Contact for investors and analysts:
Martina Lilienthal
Phone: +49 421 - 2020-720
Fax: +49 421 - 2020-613
Email: ir@ohb.de