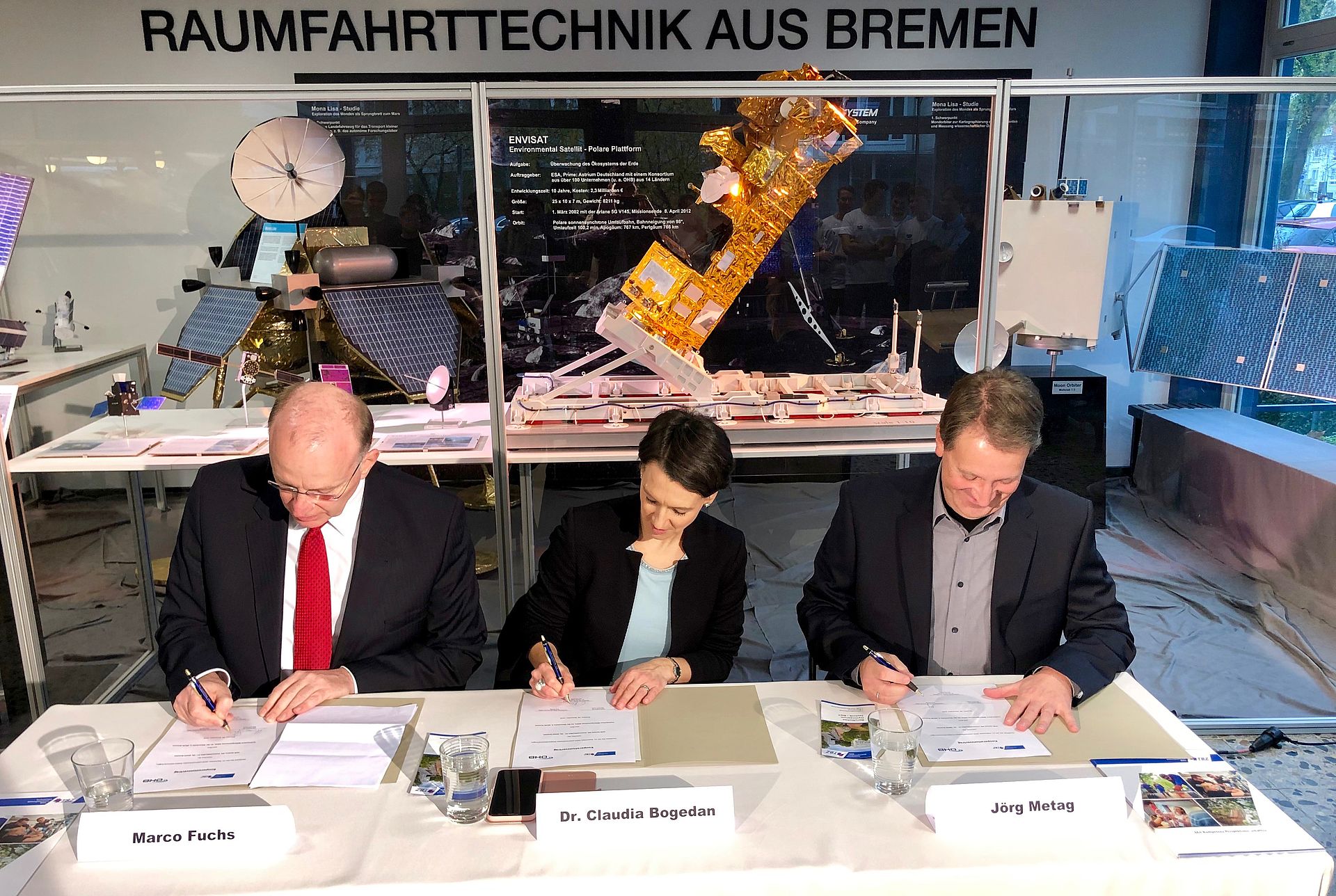 Bremen, November 18, 2019. The space and technology company OHB SE has signed a partnership agreement with Technical Training Center Bremen-Center (TBZ) covering teaching activities in aerospace technology. The agreement was signed today by Bremen's Education Senator Claudia Bogedan, OHB Chief Executive Officer Marco Fuchs and the school's principal Jörg Metag. The purpose of the partnership is to arouse TBZ students' interest in space technology and to provide them with practical insights into the working world within the OHB cosmos. OHB is thus continuing its recruiting strategy aimed at securing young talent.
"In view of demographic changes, we have to approach potential junior staff at school and get them excited about space technology. The partnership with TBZ marks the second agreement of this kind for us. Last year, we partnered with the grammar school Ökumenisches Gymnasium in Bremen," says Marco Fuchs.
At the core of the agreement with TBZ are teaching activities in the area of aviation and aeronautics for the 9th till 12th grade. Some of these classes will be taught by students on work study courses at OHB. In a preliminary step, the students will give an insight into computer science – as it relates to space travel of course. However, OHB and the TBZ are not recent acquaintances given that OHB engineers have been teaching the advanced space flight course at the school for ten years now. In addition, an exhibition of OHB satellite models was opened in the school's auditorium last year.
School principal Jörg Metag sees the partnership with OHB as a major advantage, helping to prepare young people for their future working lives: "We are delighted to be working with such a renowned company as OHB SE. In this way we can offer many school students exciting insights into the world of space technology and at the same time arouse their interest in studying and working in this field," says school principal Jörg Metag.
Dr. Claudia Bogedan sees the link between school and practice as constituting the main added value of this partnership: "Bremen is an aerospace hub and this is also reflected in our schools. The Technische Bildungszentrum Mitte school is always setting new standards in this area. This also includes the partnership agreement with the internationally active space technology company OHB. I am delighted with the close and extremely productive partnership between OHB and TBZ, which provides the students with the necessary practical relevance as well as valuable insights into the working world and not only through the OHB engineers who will be teaching at TBZ. Thank you for your great commitment."
Contact for media representatives:
Günther Hörbst
Head Corporate Communication
Phone: +49-421-2020-9438
Email: guenther.hoerbst@ohb.de
Contact for investors and analysts:
Martina Lilienthal
Phone: +49 421 - 2020-720
Fax: +49 421 - 2020-613
Email: ir@ohb.de