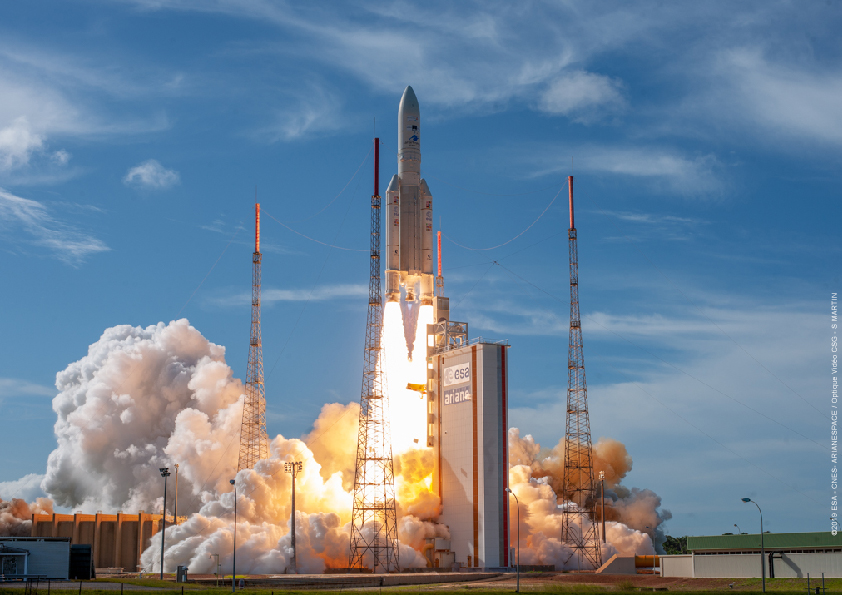 Bremen/ Kourou, August 07, 2019. The telecommunications satellite EDRS-C, which is the second node of the SpaceDataHighway system (also known as European Data Relay System, EDRS), lifted off from the European Space Center in Kourou, French Guiana at 21:30 CEST on August 06, 2019. The 3.2 ton satellite was engineered and manufactured by space systems specialist OHB System AG, a subsidiary of listed company OHB SE. It separated from the Ariane 5 launch vehicle on schedule after an ascent lasting about 30 minutes. A few minutes later, the EDRS-C satellite transmitted its first "signs of life" from space.
"I would like to thank Airbus and ESA for the trust they have placed in OHB and all those involved at OHB as well as our many subcontractors for their valuable contributions. I am eagerly awaiting the day on which our second SmallGEO satellite goes into operation and supplements the SpaceDataHighway," said Guy Perez, company CTO and member of the Management Board of OHB System AG responsible for telecommunications.
Europe's laser-based data relay system is being implemented as a public-private partnership between the European Space Agency (ESA) and Airbus. A constellation of geostationary satellites will be linked to a network of ground stations and, using innovative laser communication technology, will receive data from Earth observation satellites from lower orbits and relay it to ground stations in Europe, in near real-time and at a rate of 1.8 Gbit/s. Specifically designed for optical communications, the EDRS-C satellite developed, manufactured and tested by OHB on the basis of the SmallGEO platform forms the second node of the system. It also incorporates the HYLAS 3 Ka-band payload delivered to OHB System AG by ESA on behalf of Avanti Communications as a customer-furnished item.
OHB's contractual partners include international suppliers and service providers as well as other OHB Group companies. The ESA EDRS programme is being supported by the German Space Administration at DLR (German Aerospace Center), which has received funding from the German Federal Ministry for Economic Affairs and Energy and the Bavaria state government for the development of the system.
Further information on the SmallGEO satellite EDRS-C and its current journey can be found here in our magazine.
Contact for media representatives:
Günther Hörbst
Head Corporate Communication
Phone: +49-421-2020-9438
Email: guenther.hoerbst@ohb.de
Contact for investors and analysts:
Martina Lilienthal
Phone: +49 421 - 2020-720
Fax: +49 421 - 2020-613
Email: ir@ohb.de