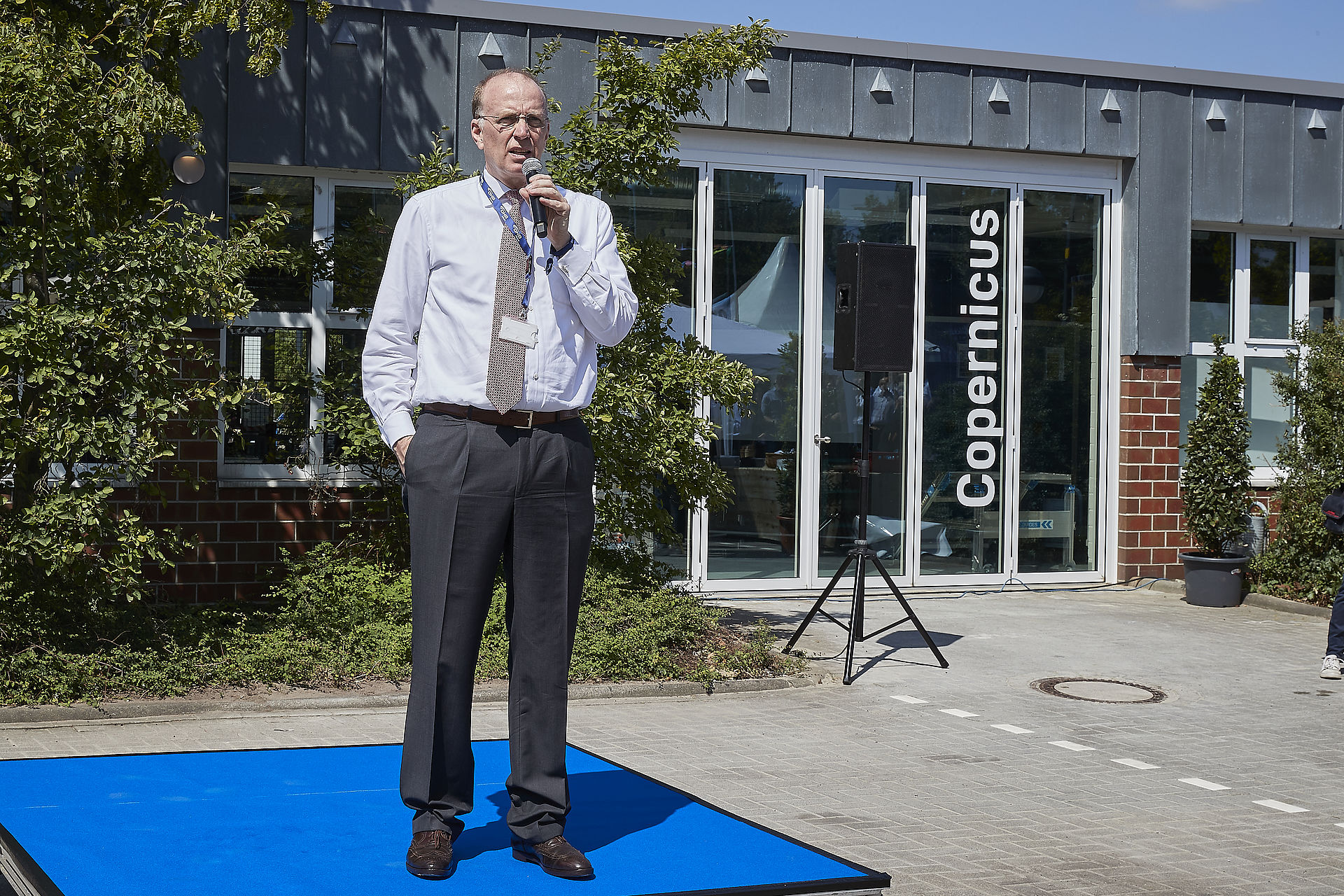 Bremen, June 28, 2019. This afternoon, Marco Fuchs, the CEO of the space and technology group OHB, inaugurated the new clean room, storage and laboratory areas at the Company's Bremen headquarters in the presence of around 1,500 employees and their families. A total of around 700 square meters of clean room facilities and 1,350 square meters of laboratory floorspace have been constructed. After the official part, management invited the employees and their families to a summer party held on the Company's premises at Universitätsallee.
A total of around 20 million euros will be invested in the Bremen location by 2020. Around EUR 6 million from the investment package has been spent on constructing the new premises and upgrading the existing buildings at the site.
"We have refurbished the traditional part of the OHB site, which has now arrived fully in the age of satellite production," said Marco Fuchs in his opening speech.
The approximately 1,350 square meters of laboratory space include the new Satellite Test Center in the basement of Building 2 and the laboratory of the Life Sciences department.
Name selected by employees
One of the new clean rooms has been named "Mikroba" in honor of the drop capsule of the same name with which OHB, still a small garage company at the time, ventured into space travel step by step back in 1985. In just under 40 years, what was originally a 5-man operation has evolved into a group with around 2,800 employees. Of these, the more than 1,000 employees in Bremen were invited to participate in a competition to come up with possible names for the second ISO-8 hall. A jury selected the name "Copernicus" from a large number of entries in acknowledgement of the European Space Agency's Earth observation mission of the same name, to which OHB is contributing five feasibility studies. What makes Mikroba and Copernicus special is that they both have floor-to-ceiling windows, allowing staff to be observed from the outside. The third hall is being used to assemble cable harnesses for satellites.
Expansion of the site continuing
However, the core of the investment package is a new clean room hall called "Plato" in the immediate vicinity of the company headquarters at the University Technology Park, which is currently under construction. The hall will have several floors accommodating integration areas and offices on a total floor area of around 1,500 square meters. Scheduled for completion in spring 2020, the new clean room will be the largest in its class.
Contact for media representatives:
Günther Hörbst
Head Corporate Communication
Phone: +49-421-2020-9438
Email: guenther.hoerbst@ohb.de
Contact for investors and analysts:
Martina Lilienthal
Phone: +49 421 - 2020-720
Fax: +49 421 - 2020-613
Email: ir@ohb.de