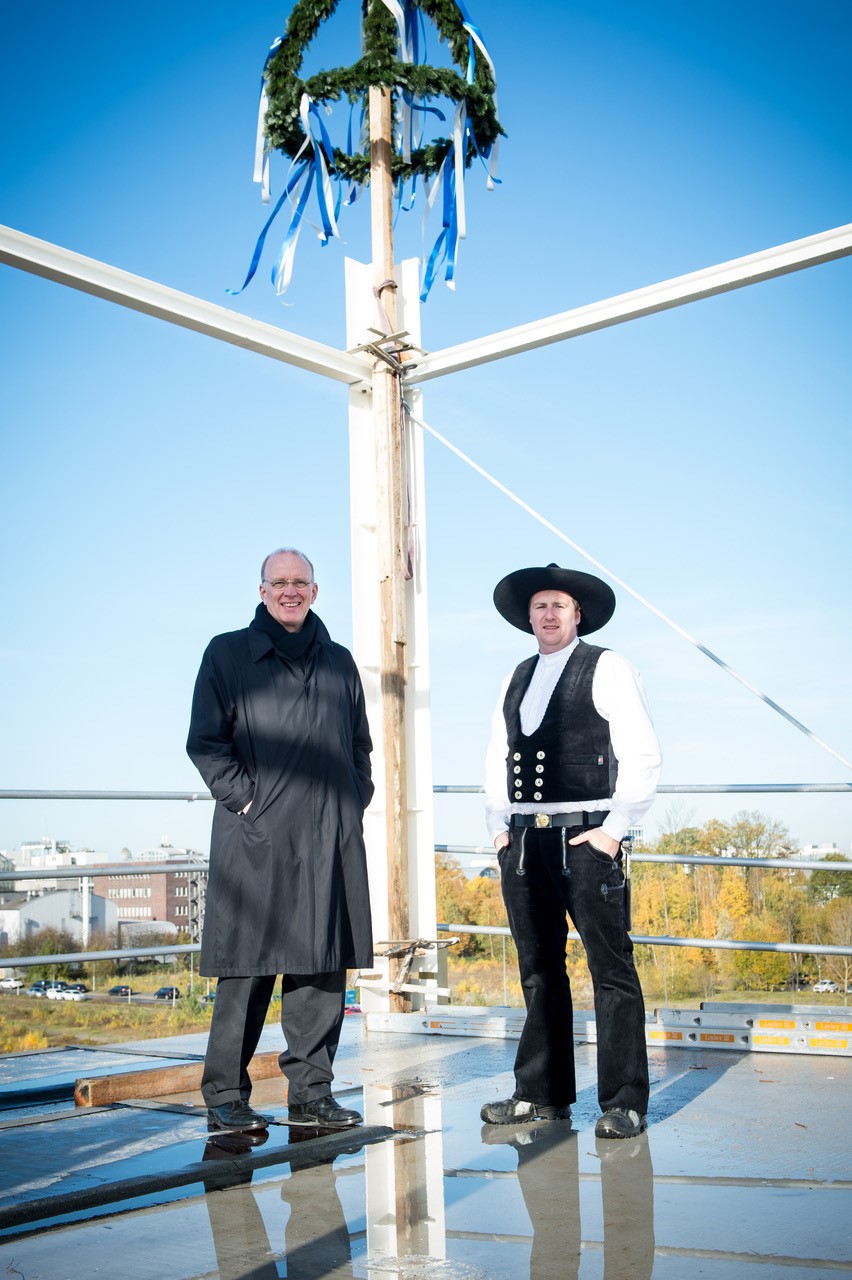 Bremen, November 8, 2019. The OHB family of companies today celebrated the completion of the outer shell of the new PLATO hall at Lise-Meitner-Strasse 8 with a "topping-out ceremony". With a floor area of around 1,000 square meters, the ISO 8-class* cleanroom integration hall will be the OHB Group's largest cleanroom. 1,500 square meters of office space are also being built adjacent to the hall. The first OHB employees will be moving into the five-storey building complex at the end of April 2020. The construction project has a budget of around EUR 14 million.
Only eleven months separate the official ground-breaking ceremony from today's topping-out ceremony, during which all the building staff, architecture and planning offices involved have completed their work on a tight schedule. In his speech, OHB CEO Marco Fuchs stated that today's topping-out ceremony is therefore also an expression of his gratitude: "A big thanks to all involved tradesmen who worked on this clean room. This facility will become the largest within the OHB Group. I am delighted that we are on schedule."
Marcus Luxenberger, the representative of the building company, gave the traditional topping-out address, after which a crane placed the topping-out wreath on top of the building.
The new building complex is to be called PLATO, this also being also a symbolic act as it marks the commissioning of OHB System AG by the European Space Agency ESA as the main industrial contractor for its next major scientific mission PLATO.
*) The ISO 8 purity class stipulates that one cubic meter of air may contain only a maximum of 30,000 particles that are larger than 5 micrometers in size. One micrometer corresponds to one millionth of a meter; by contrast, a single human hair is 50 micrometers thick.
Contact for media representatives:
Günther Hörbst
Head Corporate Communication
Phone: +49-421-2020-9438
Email: guenther.hoerbst@ohb.de
Contact for investors and analysts:
Martina Lilienthal
Phone: +49 421 - 2020-720
Fax: +49 421 - 2020-613
Email: ir@ohb.de