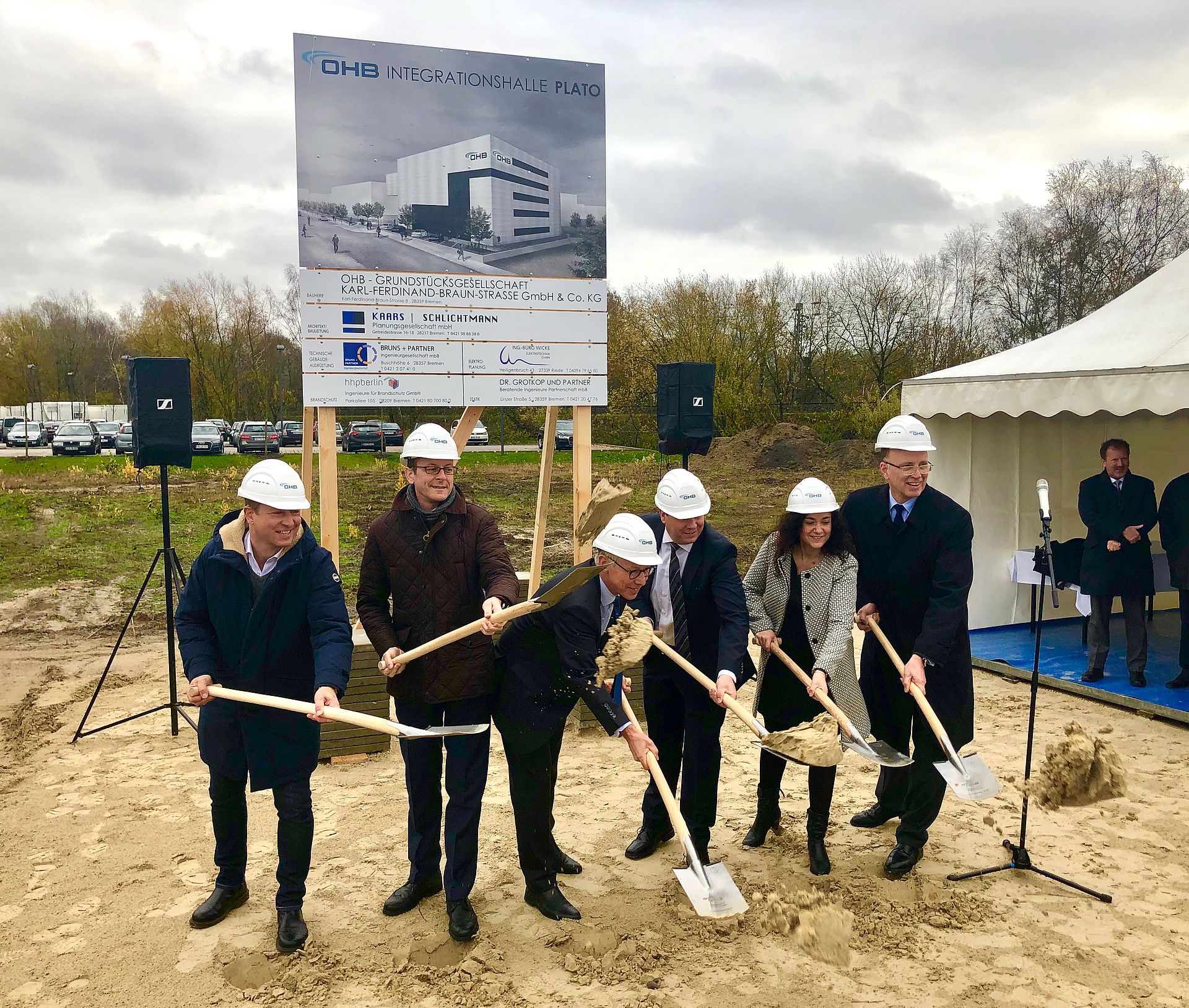 Bremen, December 3, 2018. Starting today, a square in Bremen commemorates the life and work of the entrepreneur Manfred Fuchs, who died in 2014 and who, together with his wife Christa and son Marco, established OHB and made it internationally known. Manfred Fuchs Square, whose street sign was unveiled this morning, is located directly in front of OHB's headquarters at the University Technology Park. This was also the venue of the ground-breaking ceremony held today for a new OHB production facility for space projects. The family, friends and a number of employees were joined by Bremen politicians and celebrities as well as representatives of space institutions at this double event.
The ground-breaking ceremony
After words of welcome by OHB CEO Marco Fuchs in the foyer of the company's headquarters and a greeting by Bremen Mayor Carsten Sieling, the roughly 100 guests proceeded to the nearby building site, which has an area of 2,800 square meters and is to accommodate a five-storey building, when the construction project is completed by spring 2020. In the new building, satellite projects will be designed and implemented in the ISO 8* clean room measuring 1,000 meters in area as well various integration areas and office facilities with a combined floor area of around 1,500 square meters. This project reflects OHB System AG's business success and steady growth. In addition, it testifies once again to the deep roots that the Fuchs family has in Bremen.
"Today's groundbreaking ceremony for the OHB Group's largest cleanroom fills me with great pride. The fact that it is necessary reflects the outstanding quality that our employees deliver with each and every product - after all, successful projects are the best recommendation for future business," says Marco Fuchs, CEO of OHB SE and OHB System AG. "In a few years' time, further OHB satellites will be built here featuring applications or generating data that will directly or indirectly benefit people in Europe and around the world.
At the symbolic ground-breaking ceremony, Mr. Fuchs was joined by Bremen's Mayor Sieling, the Senator for Economics, Labour and Ports of the Free Hanseatic City of Bremen, Martin Günthner. members of the Bundestag Sarah Ryglewski and Andreas Mattfeld as well as Architect Arne Schlichtmann, from architectural office Kaars Schlichtmann Planungsgesellschaft in Bremen.
PLATO the name sake
The new building complex is to be called PLATO, this also being also a symbolic act as it marks the commissioning of OHB System AG by the European Space Agency ESA as the main industrial contractor for its next major scientific mission PLATO. "PLATO will be searching for answers to the time-old question as to whether a second earth exists in the universe. It will be concentrating on earth-like planets that orbit around other stars that are similar to our sun in the habitable zone," explains Marco Fuchs. "The 26 cameras fitted to the satellite will be observing a large part of the hemisphere and capable of detecting even very small regular light losses that occur when planets fly past a star, briefly covering part of the starlight."
The "place of honor"
The next stop was the area directly in front of OHB's headquarters, which had been renamed Manfred Fuchs Square following the ceremonial unveiling of the street sign by the head of Bremen's quarter Horn-Lehe local authority, Inga Köstner and Mayor Sieling.
"This is a wonderful tribute to the life's work of my late husband, for which I am deeply grateful. I am very touched by the fact that a square directly in front of the the company headquarters, where he worked for decades, has been named in his honor. My hope is that Manfred Fuchs Square will be a lively and cheerful place where people like to meet, as this is exactly what my husband would have wanted," said company founder Christa Fuchs.
Life and work of Manfred Fuchs
Prof. Dott.-Ing. h.c. Manfred Fuchs passed away completely unexpectedly at his holiday home in Altenburg/Kaltern, South Tyrol, in April 2014 at the age of 75 years. Manfred Fuchs was born in 1938 in Latsch, South Tyrol, and became Italy's youngest pilot at the age of 17. He moved to Germany when he was 18. After studying aircraft engineering in Munich and Hamburg, Manfred Fuchs was a man of the first hour at Entwicklungsring Nord (ERNO) at the beginning of the 1960s. Among other things, he worked on designs for the Europa rocket and was later lauded as the initiator of the Columbus program.
In 1985 he joined his wife Christa's company Otto Hydraulik Bremen (OHB) and embarked on a new course in space travel. Most recently, Manfred Fuchs was Chief Space Officer at OHB AG, and Chairman of the Supervisory Board of OHB System AG. He was known, recognized and appreciated as an entrepreneur and space expert far beyond the borders of Germany, holding numerous honorary positions. Starting today, Manfred Fuchs Square in Bremen commemorates his life and entrepreneurial activities as does Manfred Fuchs Street in Oberpfaffenhofen, Bavaria, which leads to OHB System AG's headquarters in that town.
* The ISO 8 purity class stipulates that acubic meter of air may contain only a maximum of 30,000 particles that are larger than 5 micrometers in size. One micrometer corresponds to one millionth of a meter; by contrast, a single human hair is 50 micrometers thick.
Contact for media representatives:
Günther Hörbst
Head Corporate Communication
Phone: +49-421-2020-9438
Email: guenther.hoerbst@ohb.de
Contact for investors and analysts:
Martina Lilienthal
Phone: +49 421 - 2020-720
Fax: +49 421 - 2020-613
Email: ir@ohb.de