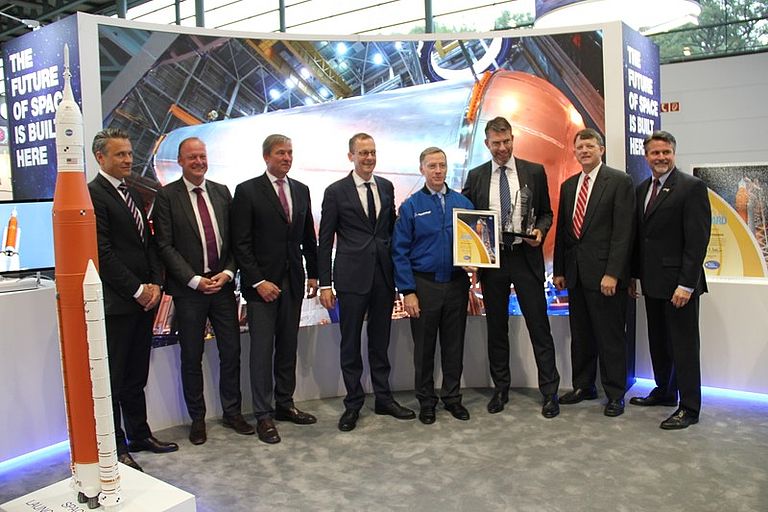 Bremen October 2, 2018. Bremen, October 02nd 2018. The Augsburg-based space technology company MT Aerospace AG today received the "Space Flight Awareness Award" for its outstanding work on the heavy-duty rocket system SLS of the US space agency NASA. The award was presented by former NASA astronaut and current Boeing Starliner space pilot Chris Ferguson on the recommendation of "The Boeing Company" at the International Astronautical Congress IAC in Bremen.
"It is a great honor for us to be part of Boeing's world-class supply chain. That is why we are particularly pleased that our work is appreciated to this extent and that we are recognized for delivering quality products," said Carsten Landmann, CFO of MT Aerospace. "Our team is proud of this award because it also recognizes our customer-focused efforts in a very important area of human spaceflight," added Dr. Gunther Schullerer, Director Head of Engineering MT Aerospace.
Boeing is building the core and upper stages as well as the avionics for the SLS rocket system. NASA intends to use it to send the most powerful heavy-duty rocket yet for manned and unmanned missions to the moon, Mars and into the depths of space. MT Aerospace provides gore panels, which make up part of the massive propellant tanks. Gore panels are pie-shaped sections of aluminum alloy that Boeing welds together to create domes for the liquid hydrogen and liquid oxygen tanks.
MT Aerospace also applied their in-depth expertise to discover a significant and unexpected natural aging effect on the hardware. Based on the aluminum and processing heritage at MT, with more than 50 years of space industry experience, a comprehensive evaluation of material data and test results was performed, and results were shared with Boeing and NASA.
The Space Flight Awareness (SFA) programme is a motivation and recognition programme for NASA contractors who bear a major responsibility for the success of manned space missions. The SFA programme is managed by the NASA Headquarters Human Exploration and Operations Mission Directorate.
Contact: Nivart Holsworth/ PR & Communication / Tel.: +49 821 505 1033 / E-Mail: pr@mt-aerospace.de
Contact:
Martina Lilienthal
Head of Corporate Communications
and Investor Relations
Phone: +49 421 2020 7200
Email: martina.lilienthal@ohb.de