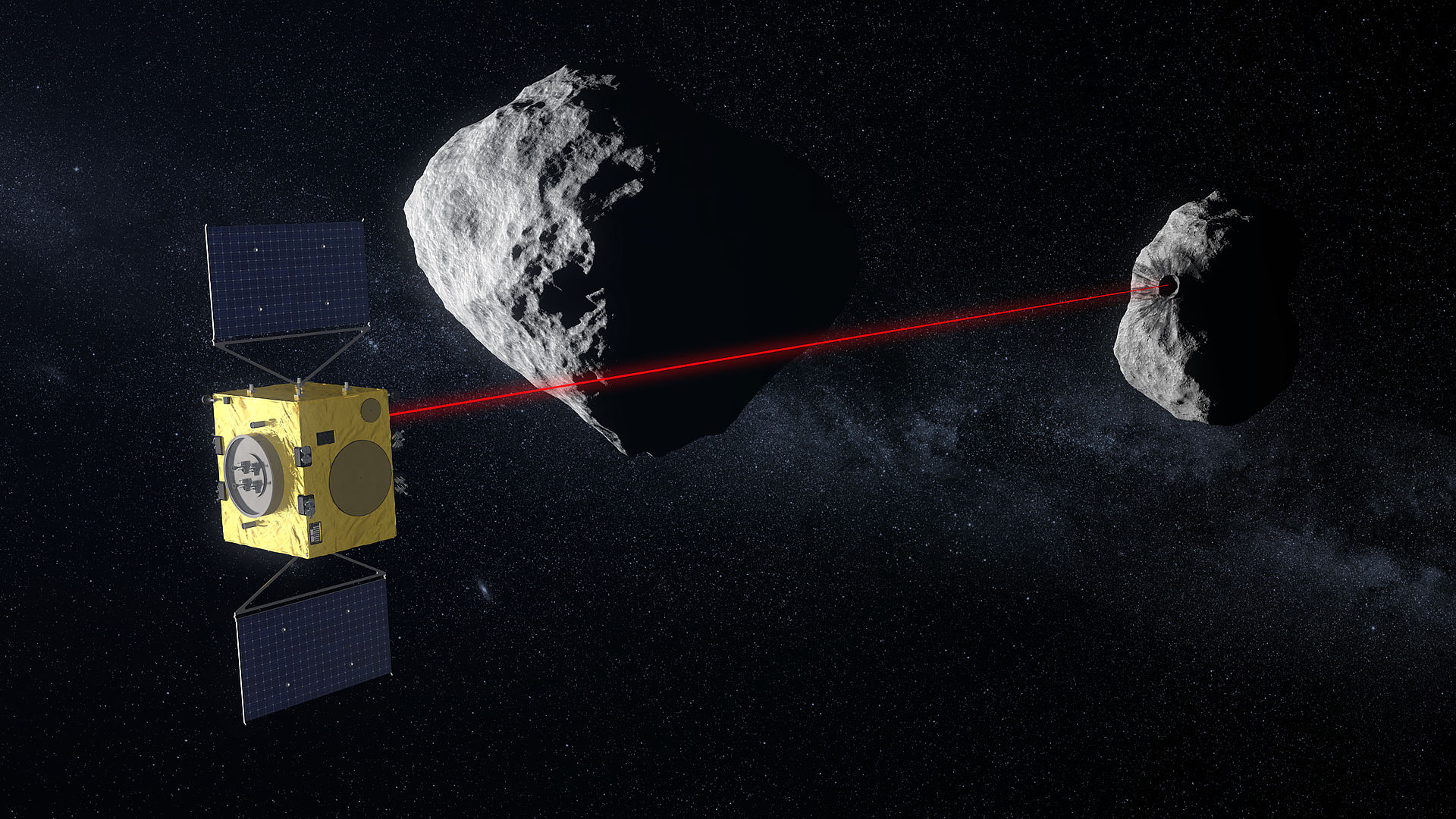 August 6, 2018, Bremen. Bremen - OHB System AG, a subsidiary of the Bremen-based space and technology group OHB SE, has been selected by the European Space Agency ESA as prime contractor for a study on the asteroid mission HERA. The contract has a volume of EUR 4.5 million and expands the OHB Group's ongoing activities in the area of protecting Earth from space threats.
The aim of the HERA study is to perform detailed mission definition a technical design of a probe that will fly to the twin asteroid "Didymos". The spacecraft will analyze its surface and sub-surface physical properties and investigate its dynamics in the aftermath of a hypervelocity impact. The HERA mission is the European contribution to a joint but staggered planetary defence mission with NASA. HERA is to investigate in particular the impact crater on the smaller of the two asteroids (called "Didymoon"), which NASA's DART spacecraft will have left behind with a previously mission to be launched in 2021. According to the scientists, the impact will slow Didymoon down by about half a millimetre per second. HERA is to provide detailed information on Didymoon's orbit changes and relate them to the asteroid composition, as well as surface and interior structure. With this experiment a viable method to deflect asteroids from their collision course with Earth will be fully validated and the results of this international collaboration could be extrapolated from Didymos to other asteroids. The launch of the HERA mission is currently planned for end 2023.
Research into asteroids is essential
Didymos, the target of the mission, has a main body 780 meters in diameter; it is orbited by a moon, called "Didymoon", measuring 160 meters which corresponds to about the same size as the Great Pyramid of Giza. Should such a rock fly towards the Earth, a hit would have severe consequences on a regional scale and unprecedented socioeconomic impact on a global scale. In order to modify their orbit with a "pusher" in an effective way, however, science must first learn more about these celestial bodies. "It is crucial to know what effects an impact exactly has on the orbit of an asteroid. We still know very little about these bodies," says Marc Scheper, head of OHB's Space Transport, Robotic Missions and Exploration departments. "Only if we know exactly how an asteroid is composed will we be able to validate effective defensive measures if such an object should one day actually collide with Earth."
Valuable preparatory work for AIM study
OHB has already gained valuable knowledge in this area in 2015-2017 through its work in an earlier study on asteroid defense - AIM (Asteroid Impact Mission). The importance of the HERA project for the future of the Earth and humanity as a whole is illustrated by some figures: experts assume that 90 percent of all very large asteroids that destroy civilization are known. However, only a few percent of the smaller asteroids are considered identified. And experts talk about colossuses up to 500 meters in diameter - such projectiles can wipe out entire regions. By way of comparison, the asteroid that exploded over Tunguska in Siberia on 30 June 1908 and bent over every tree over an area of 2,000 square kilometres had a diameter of between 30 and 80 metres. Its explosive power is indicated by that of 1,400 Hiroshima bombs.
Further OHB projects to protect the Earth
"It is therefore very important that we install additional monitoring systems," says Scheper. ESA will soon be able to use the Fly-Eye telescope, which will be installed in Sicily in 2019 for the sole purpose of tracking down and observing so-called "Near Earth Objects". This telescope is being built by OHB's subsidiary OHB Italia. If the Fly-Eye proves itself, a worldwide network of such telescopes is planned to protect Earth from space threats.
Marc Scheper's team of experts is also currently working on a study to better predict so-called Space Weather Effects. The "Lagrange Mission" study was launched as part of ESA's "Space Situational Awareness" programme. The contract is worth EUR 3.3 million. OHB System AG is conducting investigations for a mission to "Lagrange Point 5" - from there, a possible satellite will improve the early detection of solar storms and help to protect sensitive infrastructure in space and on Earth from high-energy particles from space.
"The OHB Group is involved in several different areas with ongoing projects, all of which aim to protect Earth from possible space threats," says Marco Fuchs, CEO of OHB SE. "I am very proud that we can make an important contribution to the protection of civilization with the versatile expertise within the Group in the field of space systems and exploration. The danger from asteroids or other celestial bodies, which can cause great damage on Earth, is still not known to many people. With our activities, such as the construction of the Fly-Eye telescope or studies in connection with HERA or space weather, OHB is making important contributions to protecting the Earth".
Contact:
Martina Lilienthal
Head of Corporate Communications
and Investor Relations
Phone: +49 421 2020 7200
Email: martina.lilienthal@ohb.de