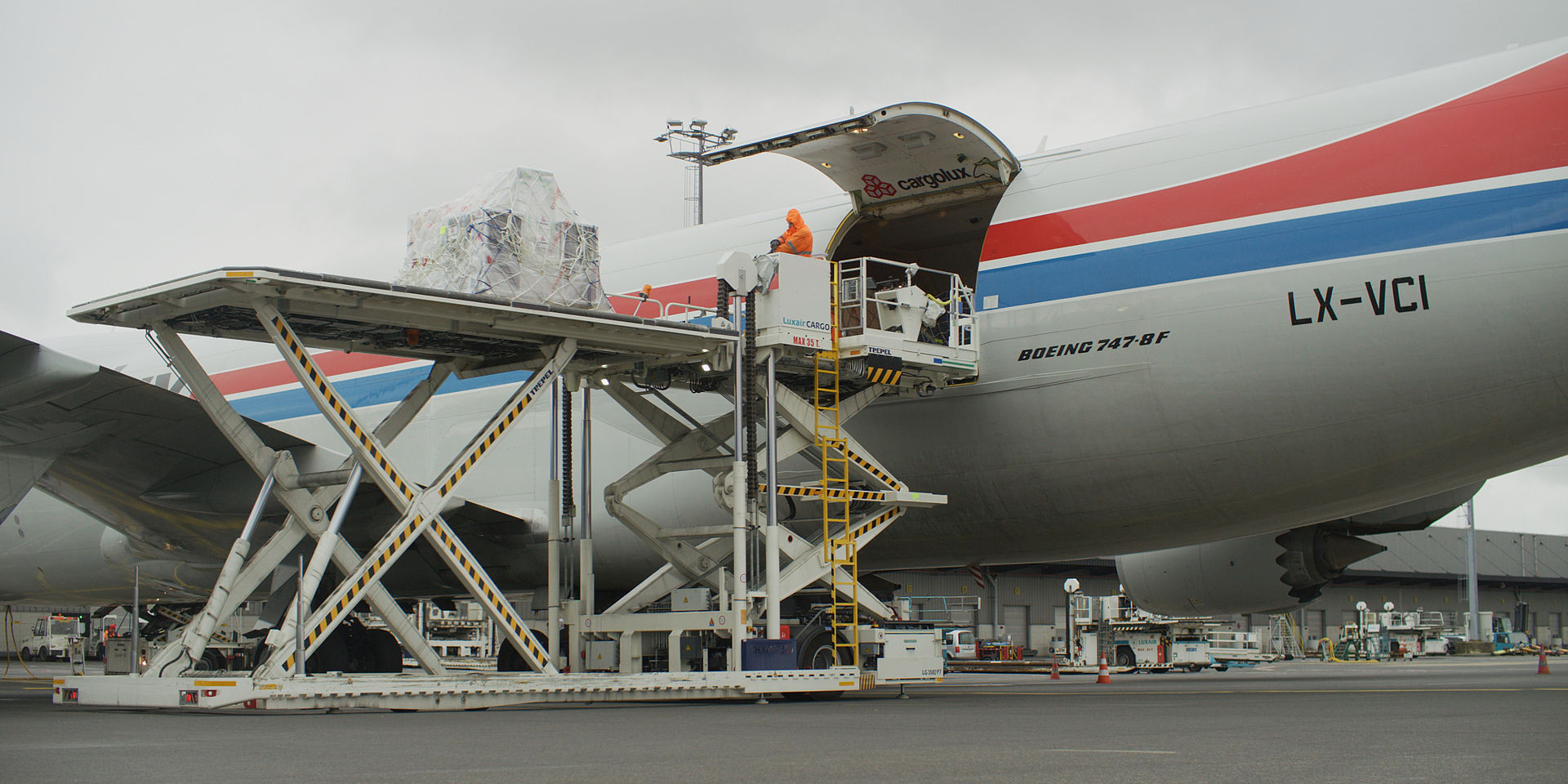 Betzdorf, Luxembourg, February 18, 2020. ESAIL, the first commercial microsatellite developed under ESA's SAT-AIS program for tracking ships, has arrived at the European spaceport in Kourou, Guiana. It was built by Luxembourg-based company LuxSpace, a subsidiary of the German space and technology group OHB SE.
With the help of a small hand-operated crane, the satellite was stowed in a specially developed transport box in Betzdorf and taken from there to Luxembourg's Findel airport from where it then took off monday morning on board a Cargolux freighter bound for Cayenne, French Guiana. This special service was an exceptional stopover for Cargolux on its South American rotation that does not usually cover this destination.
"Cargolux is pleased to have provided smooth and timely transport for the ESAIL microsatellite. We are proud of the part we played in this important European project and look forward to witnessing the successful launch of the satellite. As a Luxembourg-based airline, it was important for us to contribute to our home country's development along with other Luxembourguish companies" says Richard Forson, President & CEO Cargolux.
"ESAIL completed the first stage of its journey safely and free of any damage thanks to the seamless transportation by Cargolux. We are now eagerly awaiting the launch", says Jochen Harms, Managing Director at LuxSpace.
The launch is scheduled for end of March. ESAIL will set off on board a Vega launcher as part of a proof-of-concept flight by Arianespace's Small Spacecraft Mission Service (SSMS). The microsatellite will fly in a low earth orbit ("LEO Orbit") at an altitude of approx. 500 kilometers above the surface of the earth. Prior to this, however, ESAIL will undergo further testing to ensure that it is fully operational. A team of four LuxSpace experts have arrived at the launch site in Kourou.
The customer exactEarth will be using ESAIL to observe maritime vessels around the globe. The Canadian company is a leader in tracking worldwide shipping traffic and in maritime information services. ESAIL is a highly anticipated addition to exactEarth's existing satellite AIS constellation, which detects ships using their automatic identification system (AIS) messages.
ESAIL is part of a partnership program implemented by the European Space Agency (ESA) and has been developed with decisive support from the Luxembourg Space Agency (LSA) to improve the next generation of satellite-based services for the maritime sector.
About Cargolux Airlines International
Cargolux Airlines International, based in Luxembourg, is Europe's leading all-cargo airline with a modern and efficient fleet composed of 14 Boeing 747-8 freighters and 15 Boeing 747-400 freighters. The Cargolux worldwide network covers over 75 destinations on scheduled all-cargo flights. The company has more than 85 offices in over 50 countries, and operates an extensive global truckingnetwork to more than 250 destinations as well as full and part-charter services. Cargolux also offers third-party maintenance at its modern two-bay maintenance hangar in Luxembourg. The company is specialized in B747 line and hangar maintenance up to and including C-Checks. It offers a range of specialized maintenance services and holds line maintenance approval for 777 aircraft. The Cargolux Group employs close to 2,000 staff worldwide.
About LuxSpace
LuxSpace was created in November 2004 as a daughter company of OHB SE and is located in the SES Business Center at Betzdorf in Luxembourg. Belonging to the international network of companies within the OHB group, LuxSpace provides know-how, expertise as well as products and services to the European and global institutional and industrial market in the fields of space and defence system engineering and application development.
Contact
Cargolux
Moa Sigurdardottir
Phone: +352 4211 3635
Email : moa.sigurdardottir@cargolux.com
LuxSpace Sàrl
Simone Moser
Phone: +352 267890 8034
Email: simone.moser@luxspace.lu
Contact:
Martina Lilienthal
Head of Corporate Communications
and Investor Relations
Phone: +49 421 2020 7200
Email: martina.lilienthal@ohb.de